Thinking of integrating customer support chatbots into your business? Wondering which chatbot might suit your business needs?
Imagining businesses with a customer service chatbot is tough nowadays. According to Insider Intelligence, the chatbot market is expected to reach $142 billion by 2024 - up from just $2.8 billion in 2019.
But do you know how to use customer service chatbots the right way?
In this article, you'll discover what's a customer service chatbot and its use cases, how to choose the right one, and the top chatbots you can try out.
Let's get started.
What Is A Customer Service Chatbot? 
Customer service chatbots are AI and rule-based bots that help answer simple customer queries; for example, may I know the pricing? How do I add a new user to the plan? etc.
These chatbots use the existing resources on your websites like the FAQ section and knowledge base articles to answer questions.
Did you, that a customer support chatbot resolves 20-30% of customer queries instantly with your existing knowledge base?
A customer service chatbot can optimize CX significantly, but this doesn't mean you can replace your customer care agent with chatbots.
When it comes to answering multiple questions, dealing with complex situations, and understanding human emotions, live agents are your go-to solution.
But there are some tasks where chatbots can take over and save time for your customer care agents, like answering repetitive questions and guiding a visitor to the right place.
Let's see when chatbots have the upper hand over live agents.
Why Use A Chatbot Over Live Agent For Customer Service? 
#1. Chatbot has better availability than a live agent 
One of the major benefits of a customer service chatbot is its availability; they can answer customer queries 24/7/365. 
A chatbot can answer the questions when your customer service team is on vacation or not in the office. 
If the question is complex and a chatbot can't handle it, you can program it to patch customers through with a live agent when available.
If you receive several complex questions that need human attention, you can build a dedicated chatbot to let your customers know your customer service team's availability. 
Connect customers to the relevant agents when possible and let them handle complex questions.
#2. Customer service chatbots save you time and money
Customer service chatbots are easy to set up, nowadays you can get a chatbot up and running in hours, not even days.
But when you hire a live agent, you have to train them for at least a couple of weeks, give them a salary for their training, and invest a lot of time.
The best way to use a live agent and customer service chatbot in tandem is to optimize chatbots for doing all the repetitive work, and where things get out of control, let a live agent take over. 
This process will save you both time and money.
#3. Customer service chatbots help in personalizing customer experience
With an AI chatbot, you can provide essential information to your customers that they need to know. 
For example, suppose a customer asks your website's customer service chatbot about how your product helps ecommerce businesses, and you have an article written on it. 
In that case, a customer service chatbot scans through your knowledge base, finds a highly relevant article, and sends the link over to the customer in the chat.
If you had a live agent in place of a chatbot here, he would have to skim through the knowledge base manually, read the post himself, and then send a link across, which would've taken at least an hour or two.
#4. You can instantly resolve queries with chatbots 
One of the biggest benefits of a customer service chatbot over a live agent is that it doesn't keep any customer waiting.
As soon as a customer asks a question, a chatbot can answer them instantly. Unlike live agents, chatbots don't have lunchtime or weekends.
Not just this, a chatbot can also answer multiple questions simultaneously. This helps increase customer service productivity exponentially.
Customer Service Chatbots Use Cases 
#1. Chat with the visitors on your website
Deploying a customer service chatbot on your website helps you answer customer questions. 
According to Userlike, 68% of people like interacting with a chatbot as they provide lightning-quick responses.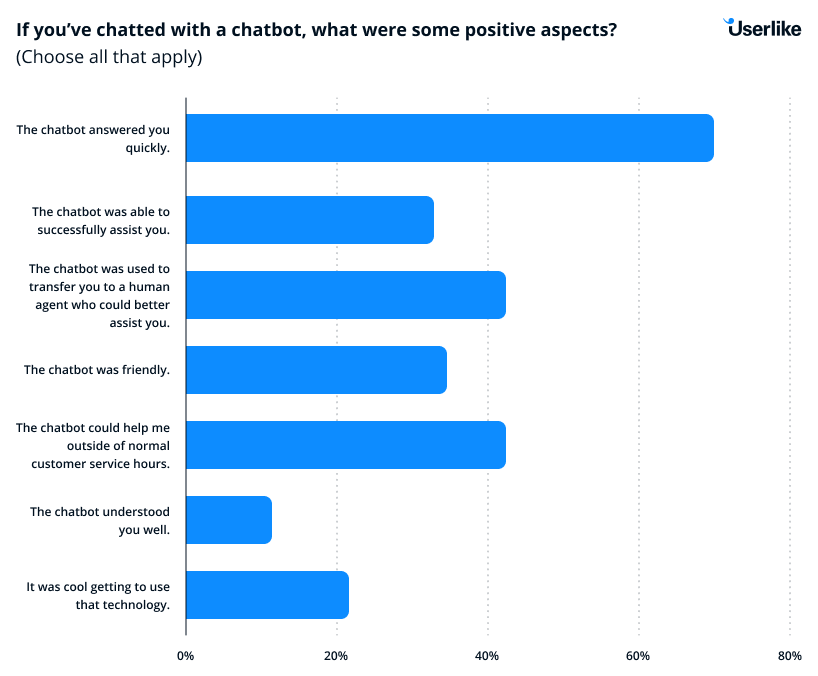 With chatbots, you can bring in human agents only when needed and increase customer service productivity in no time.
#2. Solve customer queries on social media
If you have an ecommerce store with multiple products, it might be a good idea to start and grow on social media channels like Facebook and Instagram.
When you have a social media channel with a significant amount of followers, you can deploy a customer support chatbot and resolve customer queries on social media itself.
A customer service chatbot on social media can help customers track their orders, download payment receipts, or return an order.
#3. Leverage customer service chatbots for in-app guidance
Do you sell an app or mobile software as a product? If yes, customer service chatbots can help your customers with in-app guidance.
Like a chatbot on a website, a chatbot inside an app can answer queries, guide visitors through the app, and help them understand your product.
Pro Tip: When using a customer service chatbot inside an app, enable voice search for quicker replies. 
How to Choose the Right Customer Service Chatbot?
Now that you know the potential of customer service chatbots, it's time to discuss some factors you should consider before buying a chatbot.
#1. Decide which type of bot you want - Rule-based or AI? 
A rule-based chatbot works on a decision tree and has limited functionality. Whereas an AI-based chatbot uses ML to learn and optimize itself over time.
It's quite evident that AI chatbots have the upper hand over rule-based, but this doesn't necessarily mean you have to invest in AI chatbots right from the start.
When you start a business, you have less number of products and even fewer customers; you'd hardly get any complaints about your product at first. 
Investing in an AI-chatbot right from the start might get a little expensive.
You can start with a rule-based customer service chatbot; when you see market traction and start receiving inquiries, switch to an AI powered chatbot.
#2. See the integration capabilities before buying a chatbot
To give customers an omnichannel customer service, your chatbot must have the capability to integrate with social media platforms, mobile apps, ecommerce platforms, and many more.
Apart from this, it should also be able to fetch essential customer data from these channels and ensure that the conversation on every channel is smooth.
#3. A customer service chatbot should let you collect data and personalize conversations
Does your chatbot record every conversation you have with your customers? If not, you should consider changing it. 
A customer service chatbot must be able to keep track of all the conversations you have with your customers and track important customer service metrics. 
This information helps you personalize conversations with your customers over time.
15 Best Customer Service Chatbots to Try In 2022
#1. Cohere Answers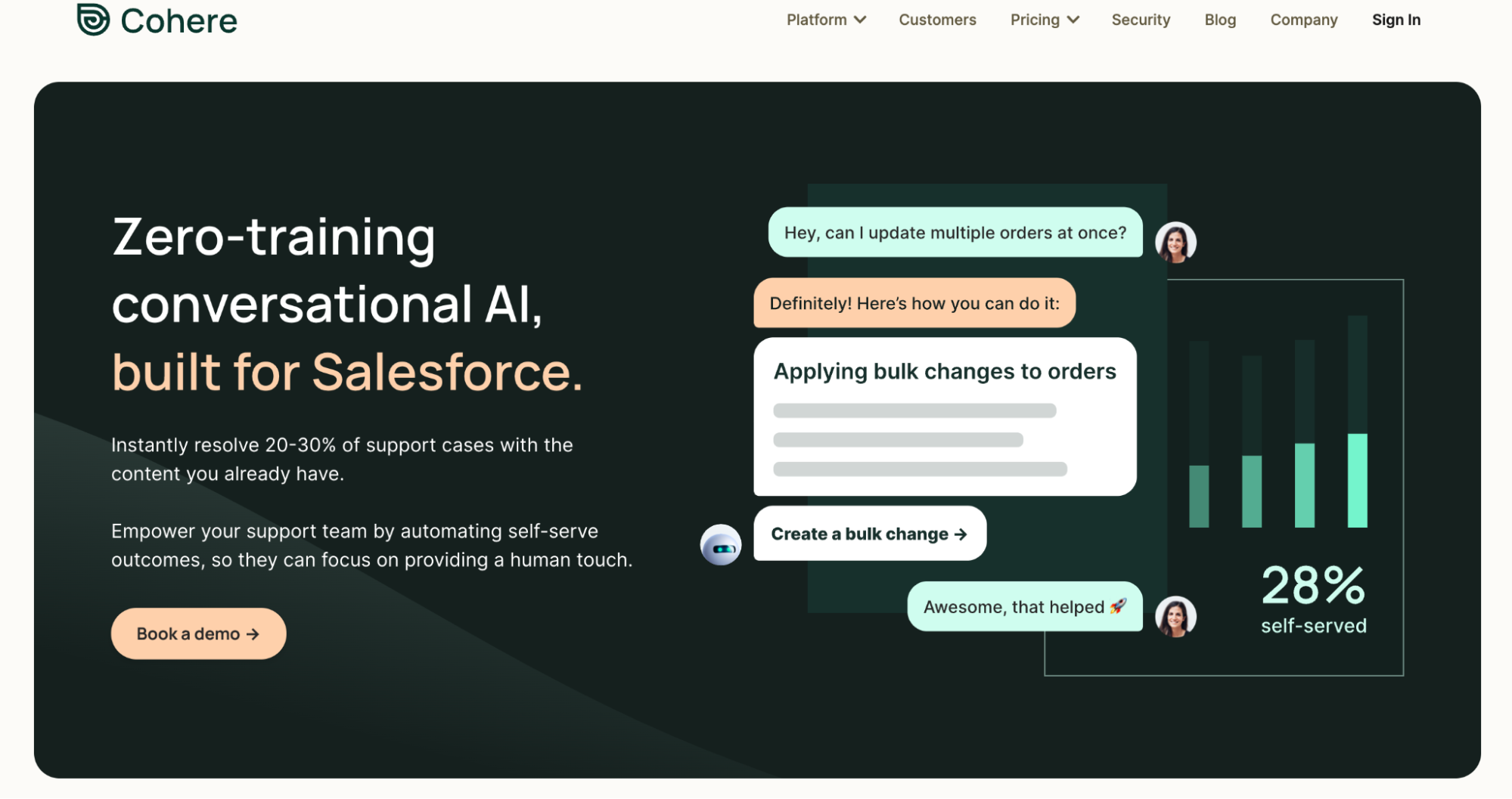 Your customer support team spends a significant amount of time answering queries that can easily be answered via the knowledge base you have. 
Answers by Cohere (disclaimer - this is our tool) lets you automate query answering and deploy a chatbot on Salesforce for your customers in days, not weeks.
Want to know about Cohere Answers features? Here they are:
Instantly resolve 20 to 30% of your customers' queries with an already existing knowledge base

Persuade your customers by asking open-ended questions and increase self-serve rates

Cohere Answers conversation AI learns from your website's or app's knowledge base and even tells you what's missing

With our cutting edge transformer-based models, Cohere Answers understands customer intent via messages even if they make a typo or grammatical error

Answers track the self-serve rate, query volume, common queries asked, and several other customer service metrics to find any scope of improvement if available
With Cohere Answers, you can:
Increase self-served ticket rates by 28%

Reduce cost per interaction by 43%

1.6x your agent productivity
Pricing: Demo available on request, reach out to inquire about Enterprise (contact sales) plans.
Making customers happy is hard. Let's make it easier.
See how Cohere can help your CX and sales teams engage with customers faster and more effectively.
#2. Freshdesk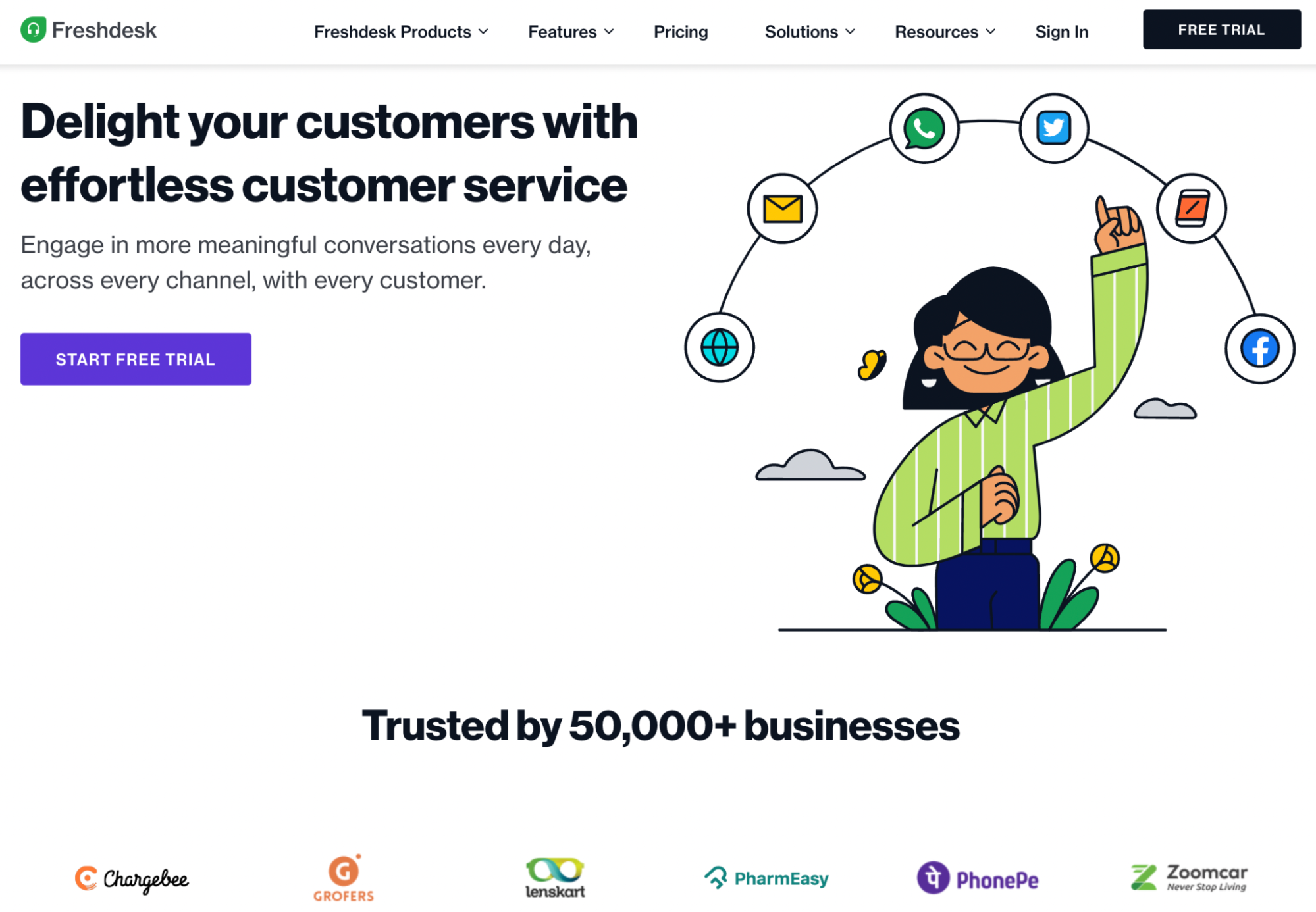 Build long-term relationships with your customers with Freshdesk's intelligent customer service chatbot that focuses on delighting your customers like a human.
Freshdesk integrates with all major channels you'd think of launching your product, like:
Web

Mobile

WhatsApp

LINE

Facebook

Apple Business
Freshdesk's customer service chatbot helps you automate ticket resolution to save time for both your customers and agents.
It also helps you collect essential customer data and assign a common agent to a similar group of customers.
The omnichannel approach from Freshdesk helps you scale your customer support with ease.
To reduce the average handle time, Freshdesk's chatbot leverages real-time resolutions, intelligent automation, and contextual agent handover.
Freshdesk lets you build multiple chatbots to cater to specific customer needs. You can build one to answer customer queries, another to work on triggers or collect customer feedback.
Pricing: You can get started with Freshdesk for free. However, the free plan is limited. If you want premium features, you can choose from the following plans:
Growth:

$18/mo/agent

Pro:

$59/mo/agent

Enterprise:

$95/mo/agent
#3. Acquire.io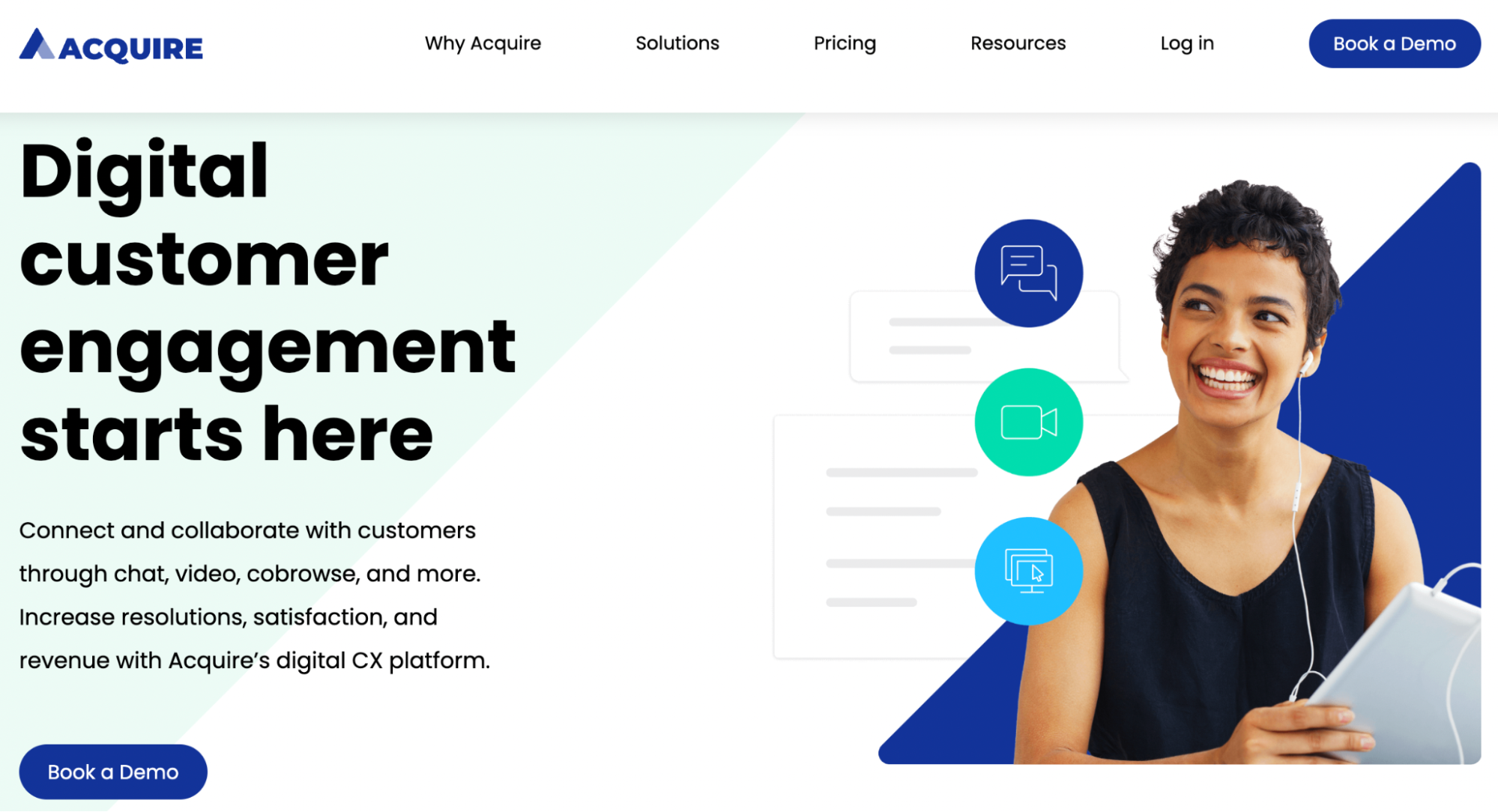 Acquire is a customer engagement tool that's trusted by the likes of Samsung, Audi, Paysafe, and hundreds of other brands.
With Acquire, you can deploy a customer service chatbot to handle routine work so your customer service team can focus on strategic tasks.
To resolve a complex query, you need a live agent on the chatbot's side. Instead of beating around the bush with your chatbot, patch a customer directly through a live agent when the question becomes too complex for a chatbot.
You don't need coding to build and deploy a customer service chatbot via Acquire. Just select the purpose and build custom workflows by dragging and dropping elements in minutes.
You can connect Acquire with popular enterprise chatbot software like IMB, Watson, and Dialogflow via its open API.
Not just this, optimize chatbot performance by learning which chatbots your customers love interacting with and which ones need improvement.
Pricing: Acquire has three plans - Starter, Commercial, and Enterprise. Contact the sales team for pricing.
#4. SnapEngage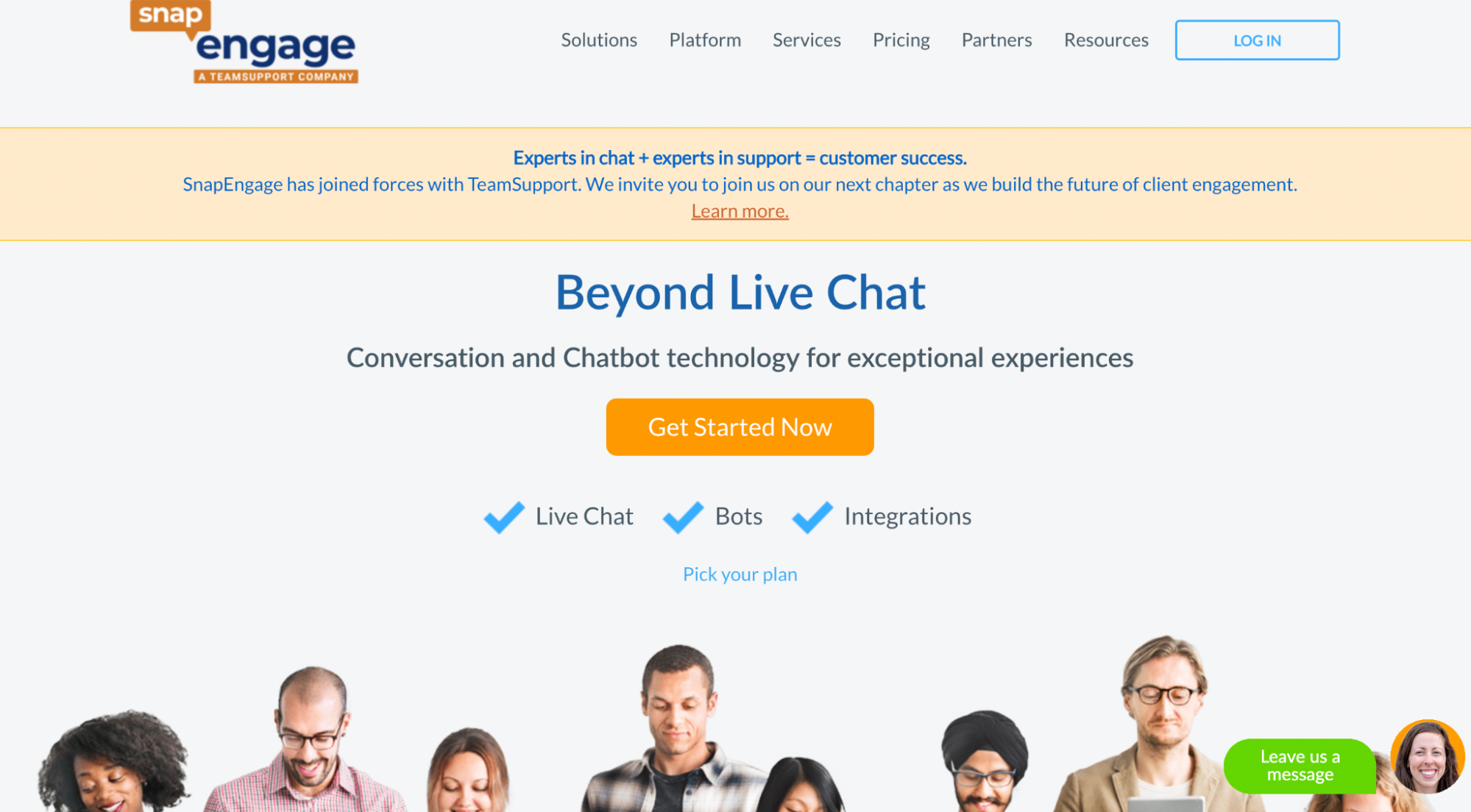 SnapEngage provides four different customer service chatbot solutions:
Answer bot

Guide bot

Chatbot API

Advanced agent AI
The Answer bot connects to your knowledge base and helps customers self-serve their queries. 
If the bot can't find any relevant information in the knowledge base of your website, it will connect the customer to a human agent in no time.
You can deploy Answer bot to resolve up to 80% of inquiries instantly.
A guide bot is built for more complex problems. The bot understands customer intent and connects them with the right agent quickly. 
For example, if a customer wants to track their shipping, the guide bot will connect them to the customer service agent that deals with shipping inquiries.
The chatbot API lets you:
Gather customer information

Improve lead qualification

Integrate custom chatbots with your overall digital customer engagement strategy
Pricing: SnapEngage has three plans - Essential, Professional, and Enterprise. It doesn't reveal the pricing on its website, you can contact the sales team for more information.
#5. Xenioo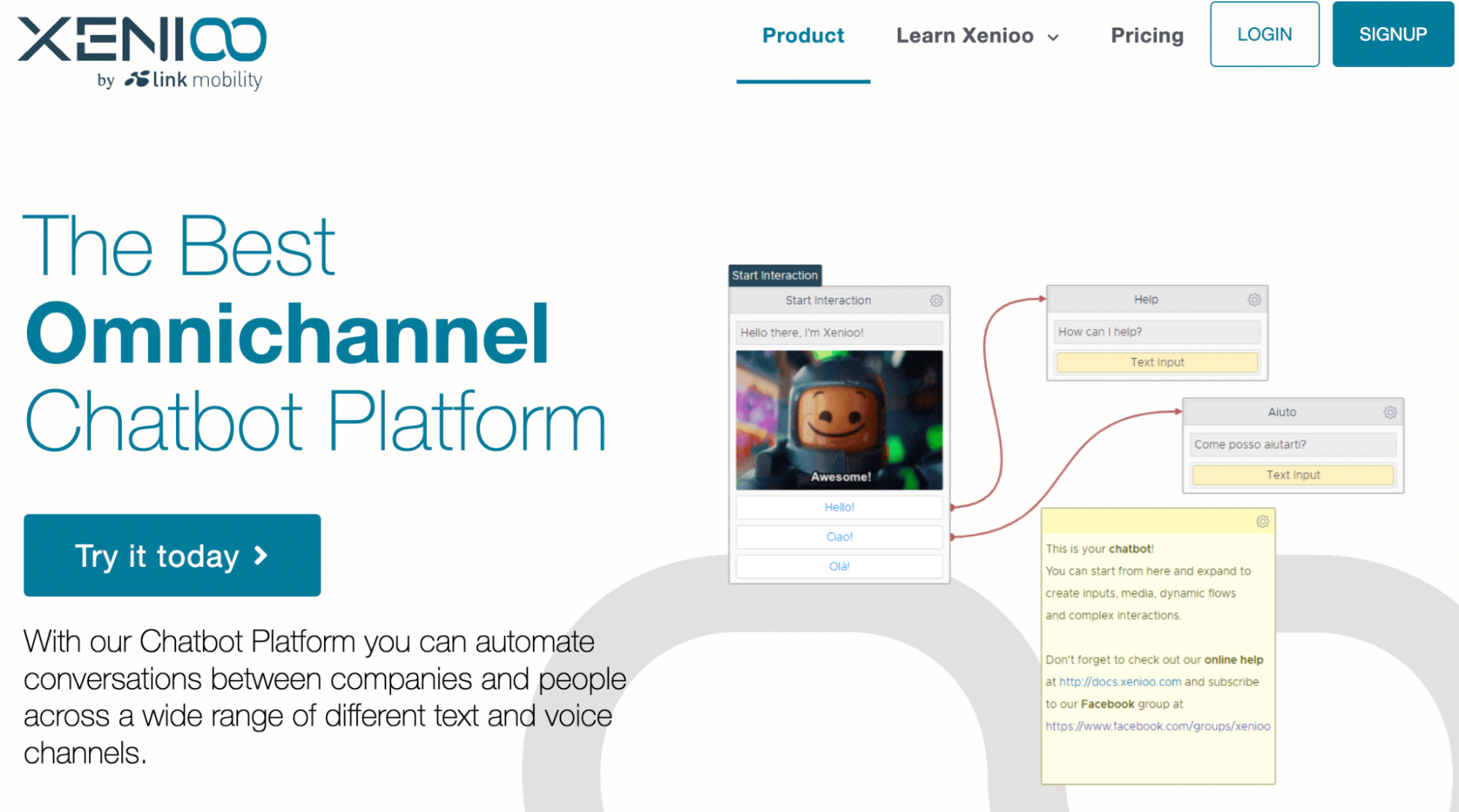 Xenioo is an omnichannel customer chatbot software that you can deploy on 14 unique platforms to cater to your customers better.
The software has a chatbot designer with a sleek and intuitive interface that helps you build a chatbot via drag and drop elements. Building a chatbot with Xenioo is like creating a mental map.
The builder gives you options like inputs, cards, carousels, images, and much more to choose from and build your chatbot.
The preview feature lets you test your chatbot and make live changes before deploying it to a real audience. Lastly, the builder has an execution diagram that lets you know everything that happens behind the scenes.
You can make changes to a live chatbot, in real-time without switching it temporarily off.
Xenioo has a powerful natural language processing (NLP) engine that supports complex and multilingual expressions.
Lastly, Xenioo's team features lets you put together a team of agents and assign them a chatbot; they can track KPIs and help optimize the chatbot over time.
Pricing: You can start using Xenioo for free, but if you want to get agents onboard and deploy multiple chatbots, you can choose from the three premium plans it offers:
Growth:

€49/mo

Professional:

€99/mo

Custom:

Contact the sales team
#6. Engati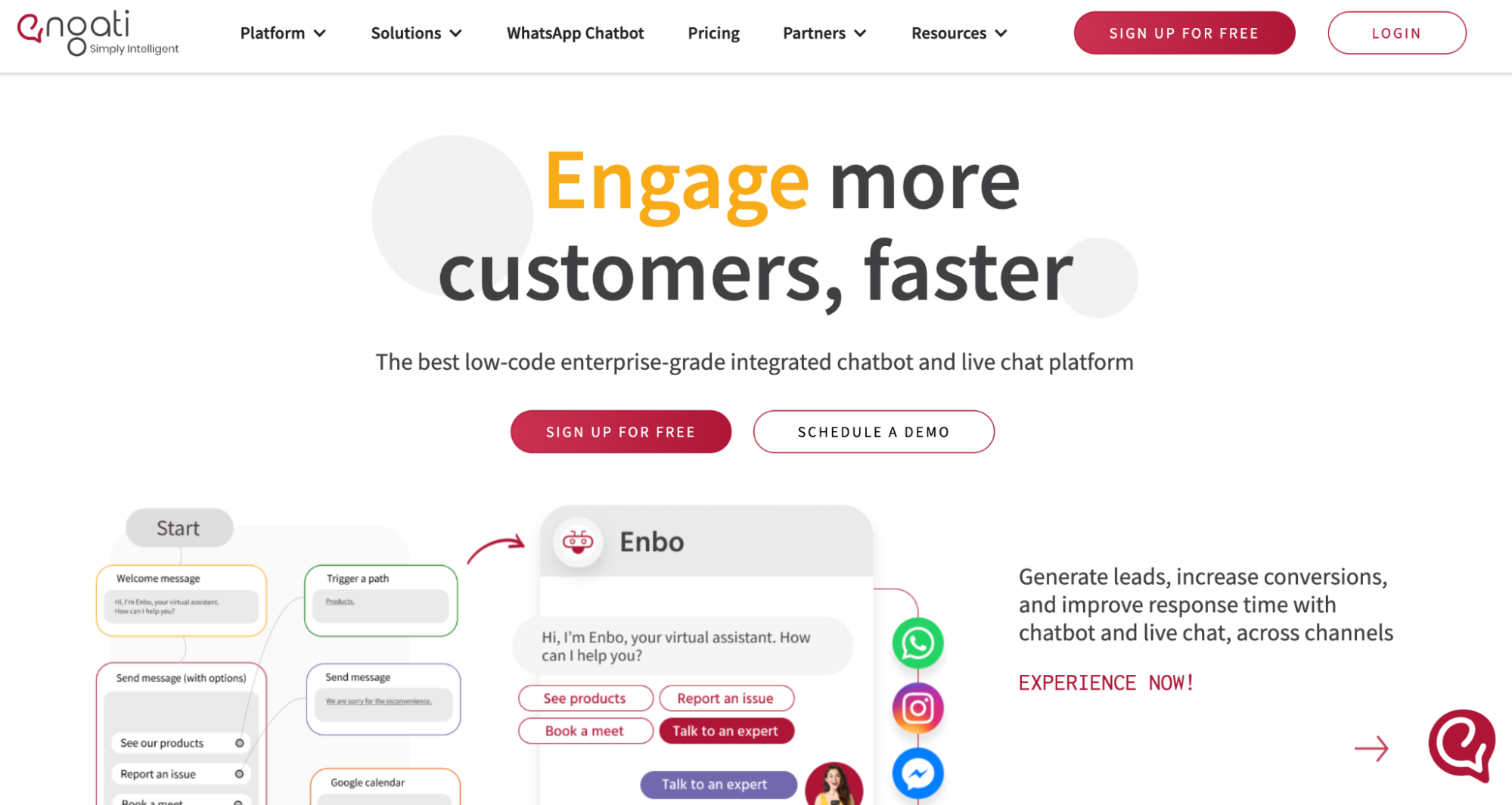 Engati helps you keep up with your customers on multiple channels like WhatsApp, Instagram, Facebook, and websites.
With Engati, you can engage your customers in their local language on WhatsApp and broadcast notifications to your customers directly.
What's more, you can also automate media messages and drive WhatsApp marketing campaigns with interactive buttons.
With the Shopify customer service chatbot, you get a 360-degree view of your customers' journey, pre-built templates to get started, and multiple integrations with CRM and ticketing tools.
You can create an Engati chatbot with its drag and drop conversational modeler with minimal coding.
The NLP engine helps you deliver a highly personalized experience to your customers across all the channels.
Lastly, the Instagram bot lets you send automated comment replies relevant to the posts and increase engagement. You can also use it to answer complex questions your customers DM you.
Pricing: Engati has three plans to choose from Standard, Enterprise, and Partner. You can request a demo and quote by emailing their sales team.
#7. Simplifai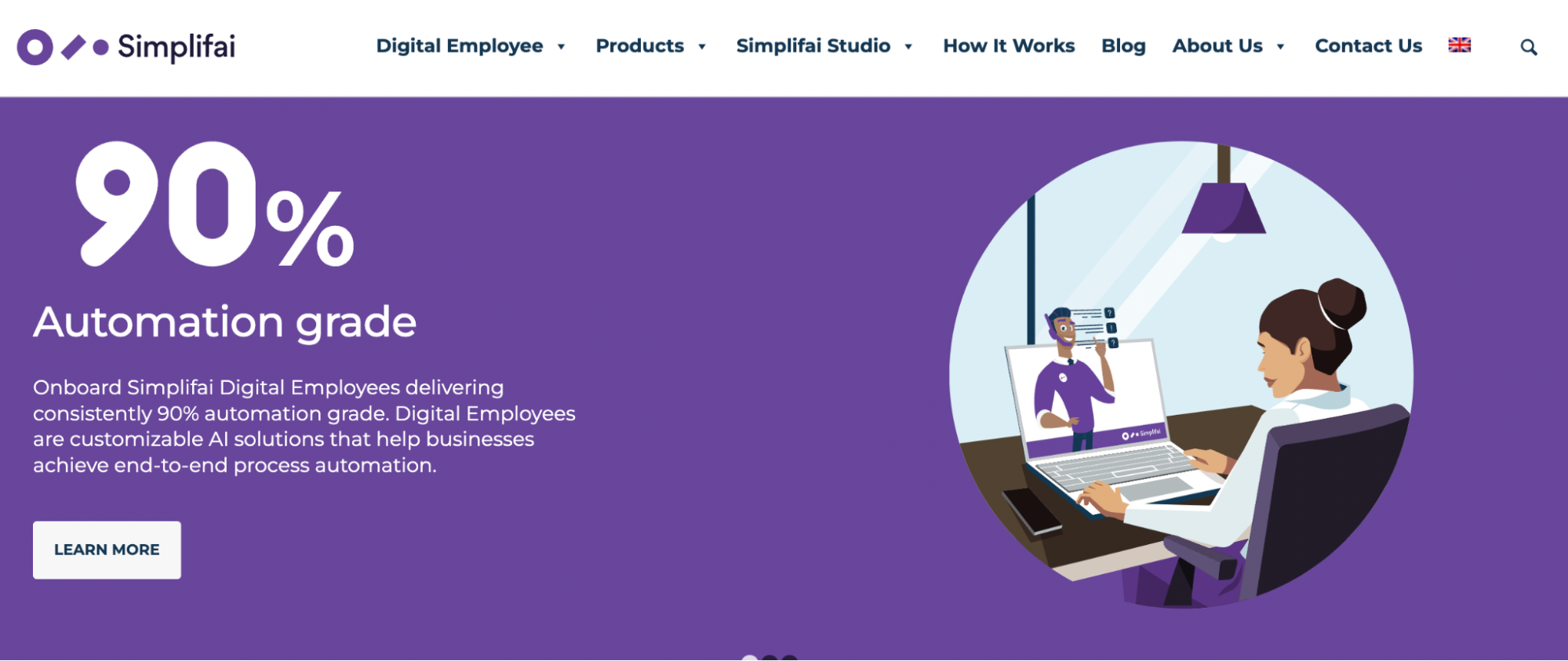 Simplifai is an AI-based chatbot solution best suited for increasing availability and handling inquiries online.
The chatbot replies to the queries customers ask and fetches information to learn more about your customers over time.
The platform comes with a cloud-based AI called Simplifai Studio, making setting up and embedding your chatbot to multiple channels easy.
You can integrate your chatbot to other AI modules Simplifai offers for end-to-end automation.
Simplifai's AI chatbot comes with a contextual understanding feature that lets it stick to the topic even after the customer deviates from it
The platform's language engine supports multiple languages, it covers every major language in Europe. Simplifai uses NLP to understand multiple languages.
You can configure and train the chatbot in Simplifai Studio that has a user-friendly interface, is fast and easy to use, and you don't need to be a coding geek to use it.
Pricing: The platform doesn't reveal its pricing and its plans. You can book and demo and talk more about it with their sales team.
#8. Verloop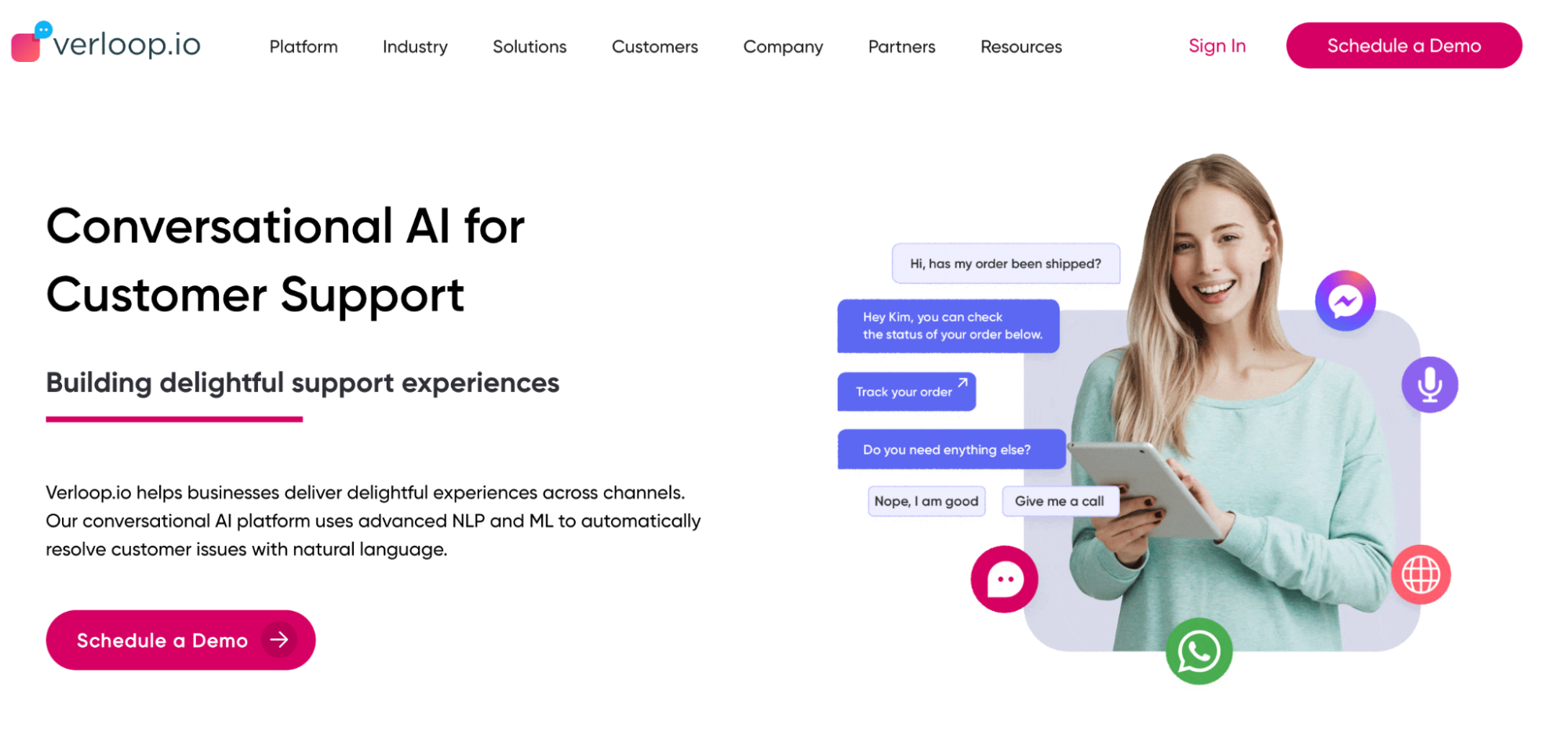 With Verloop, you can trust frustrated customers into happy and loyal customers by deploying an ML/NLU-based customer service chatbot.
No matter which channel you plan to provide customer service on, Verloop will get along with your customers the moment they ask your bot a question.
Have multiple conversations going on? No problem. Track each conversation, know which ones require higher attention, and prioritize accordingly.
Verloop chatbot supports more than 20 languages, so you can personalize your conversations and increase geographical reach with ease.
Being an ML and NLU-based chatbot, Verloop can collect customer data, resolve common customer issues, and connect people to the right agents.
Verloop integrates with 20 different software spread across categories like CRM, payments, marketing, and messaging channels.
Pricing: Like Simplifai, Verloop doesn't reveal its pricing or plans. You can book and demo and know more about it.
#9. LiveChat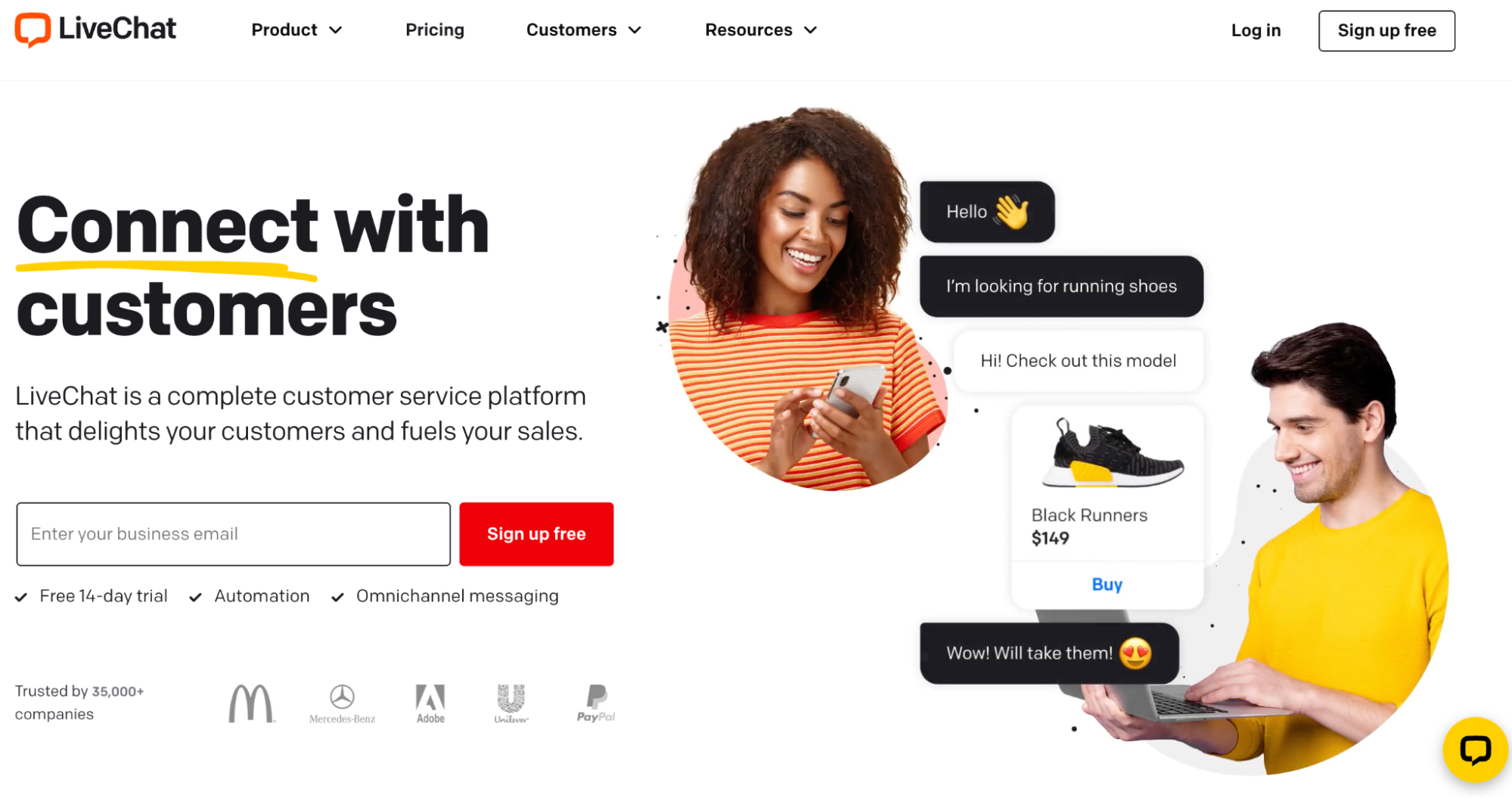 With LiveChat, you can set up automated and interactive greetings depending on users' location, pages visited, and more.
Segment your audience to create groups of people with similar queries, assign them a live agent if needed, and boost your customer service productivity in no time.
LiveChat helps you personalize communication with customers based on user profile and behavior. You can connect the chatbot with your CRM to track all essential chatbot metrics.
Create and save message templates for common queries to fasten query resolution and handle multiple cases in just a click.
LiveChat gives you 20+ reports that monitor performance, engagements, and customer satisfaction. 
You can integrate LiveChat with 200+ tools like Twitter, Clearbit, Mailchimp, and many more.
Pricing: LiveChat has four plans to choose from:
Starter:

$19/mo

Team:

$39/mo/agent

Business:

$59/mo/agent

Enterprise:

Contact sales team
No matter what plan you choose, you get a 14-day free trial; no credit card required.
#10. Mindsay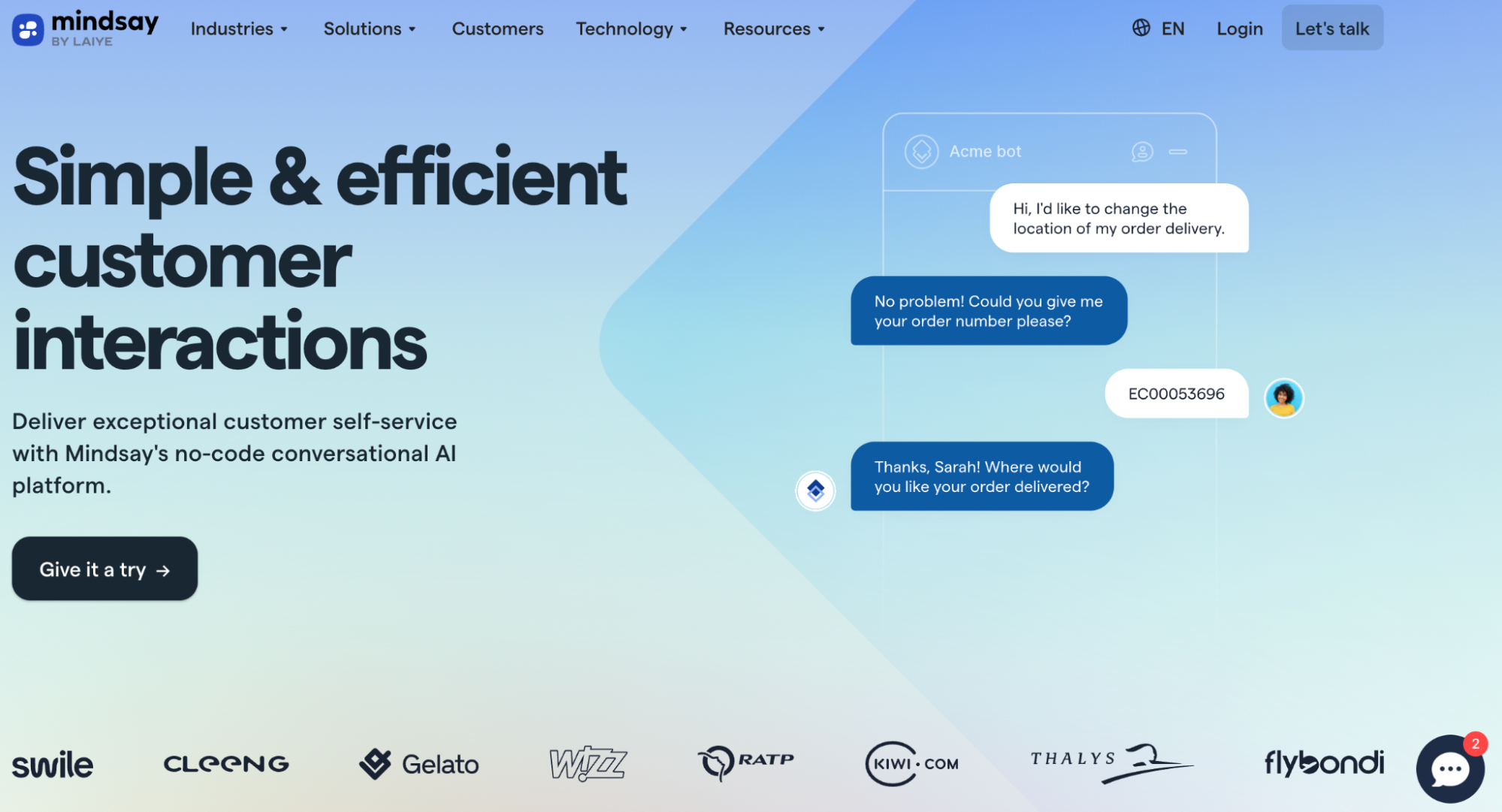 Mindsay is a customer service automation platform that helps you deploy chatbots for faster and personalized customer service.
Mindsay's chatbot isn't just limited to words, it can reply in all types of content forms - images, links, buttons, videos, etc.
The customer service automation platform of Mindsay can connect with any platform via an API so that you can import content from your CMS, CRM, and many other platforms.
The chatbot can be programmed to cater to 110 different languages depending on your customer's location. 
The platform integrates with Zendesk, Salesforce, Intercom, and Genesys to keep a live agent in the loop for every customer that interacts with your chatbot and might need a human touch. 
Mindsay lets you automate 80% of support requests, accelerate customer service, and reduce your customer cost significantly.
Pricing: Contact their sales team for pricing.
#11. Zendesk Chat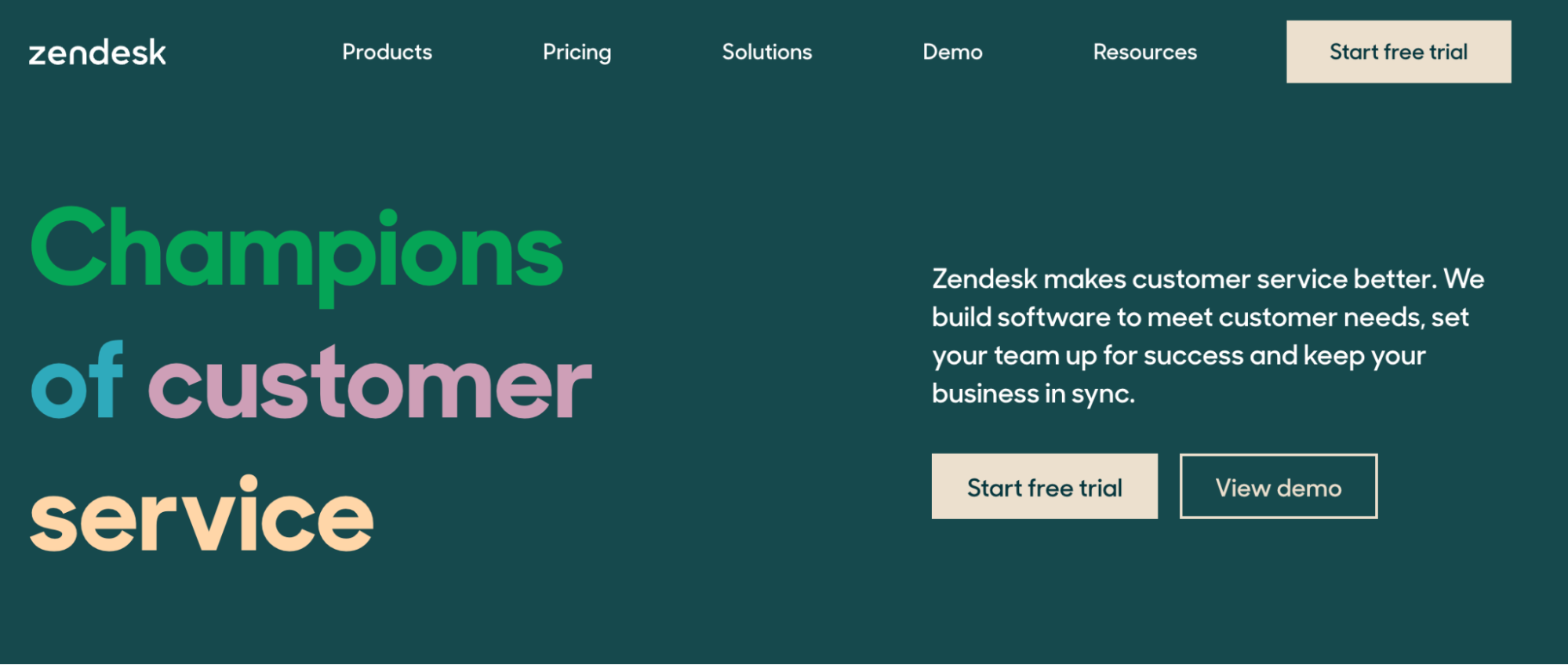 Answer Bot is Zendesk's AI chatbot that works alongside your customer care team to help your customers out.
You can leverage Answer Bot to resolve low-priority tickets and redirect customers to live agents when in need.
You can put Answer Bot on multiple support channels like chat, messaging, Slack, etc. This gives you an opportunity to go to your customers to solve queries rather than them coming to you.
You can save your agent's time by programming the chatbot to collect basic customer information like name, emails, issue type, and more.
Zendesk's flow builder lets you orchestrate a conversation between Answer Bot and customers before going live. 
Once you're satisfied with the flow you built, publish it in multiple languages in just a few clicks and without a single line of code.
Pricing: Zendesk has two main categories of pricing - Plans for everyone and Plans for enterprise. The plan prices range from $49/mo/agent to $215/mo/agent. 
#12. Drift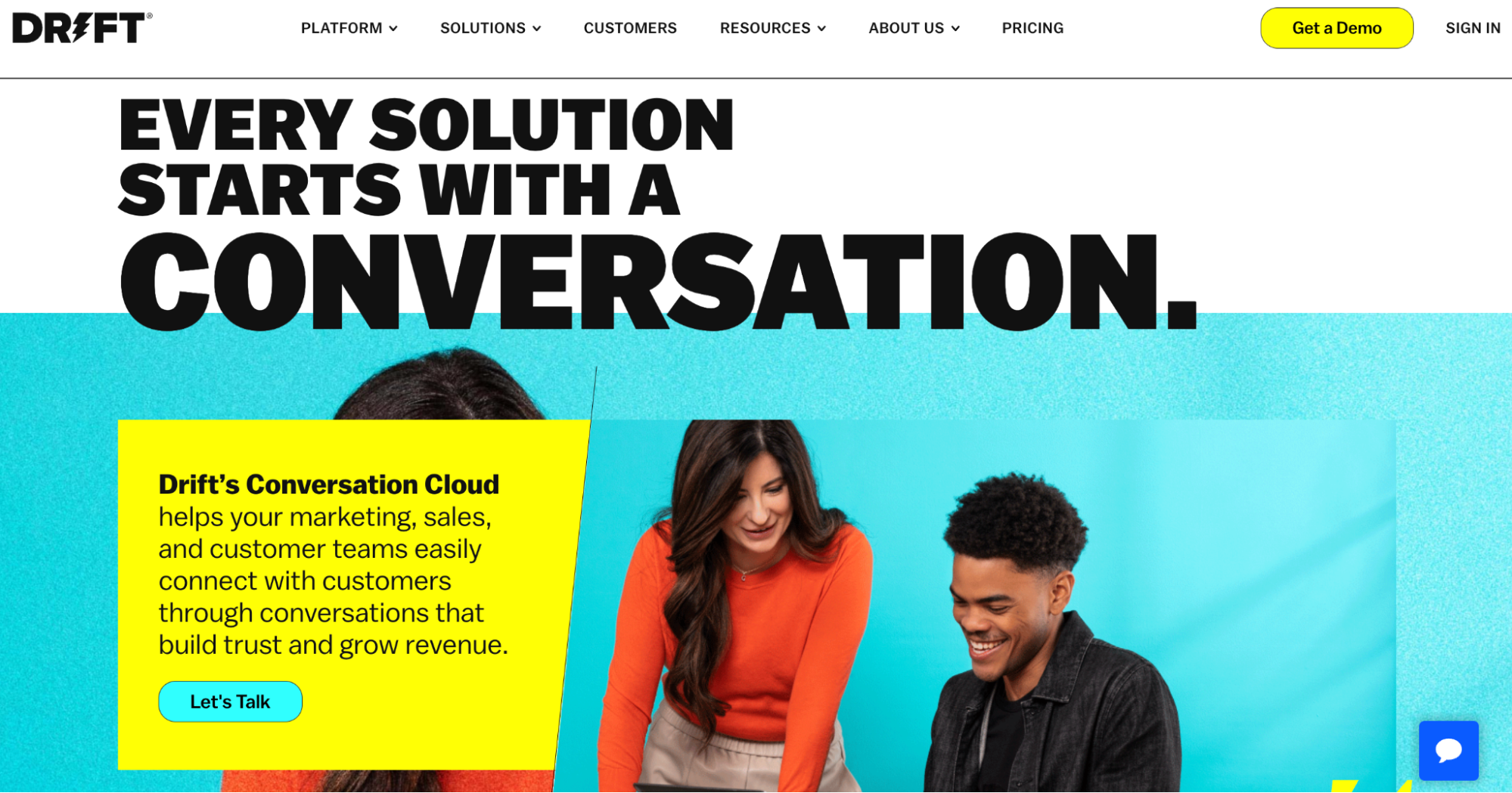 Drift helps your customer care team connect with customers through conversations that build trust and nurture long-term relationships.
Your customers can ask open-ended questions and find their own answers, get personalized recommendations, or schedule a meeting at any point in their buyers' journey.
Drift's conversation AI lets you track important customer metrics like CSAT score, deflection rate, and time-to-time resolution, which you can use to prioritize your conversation.
You can program the chatbot to automatically resolve common and low-priority issues and let agents focus on high-priority issues.
Pricing: The platform has three plans to choose from - Premium, Advanced, and Enterprise. You can contact Drift's sales team for pricing.
#13. LivePerson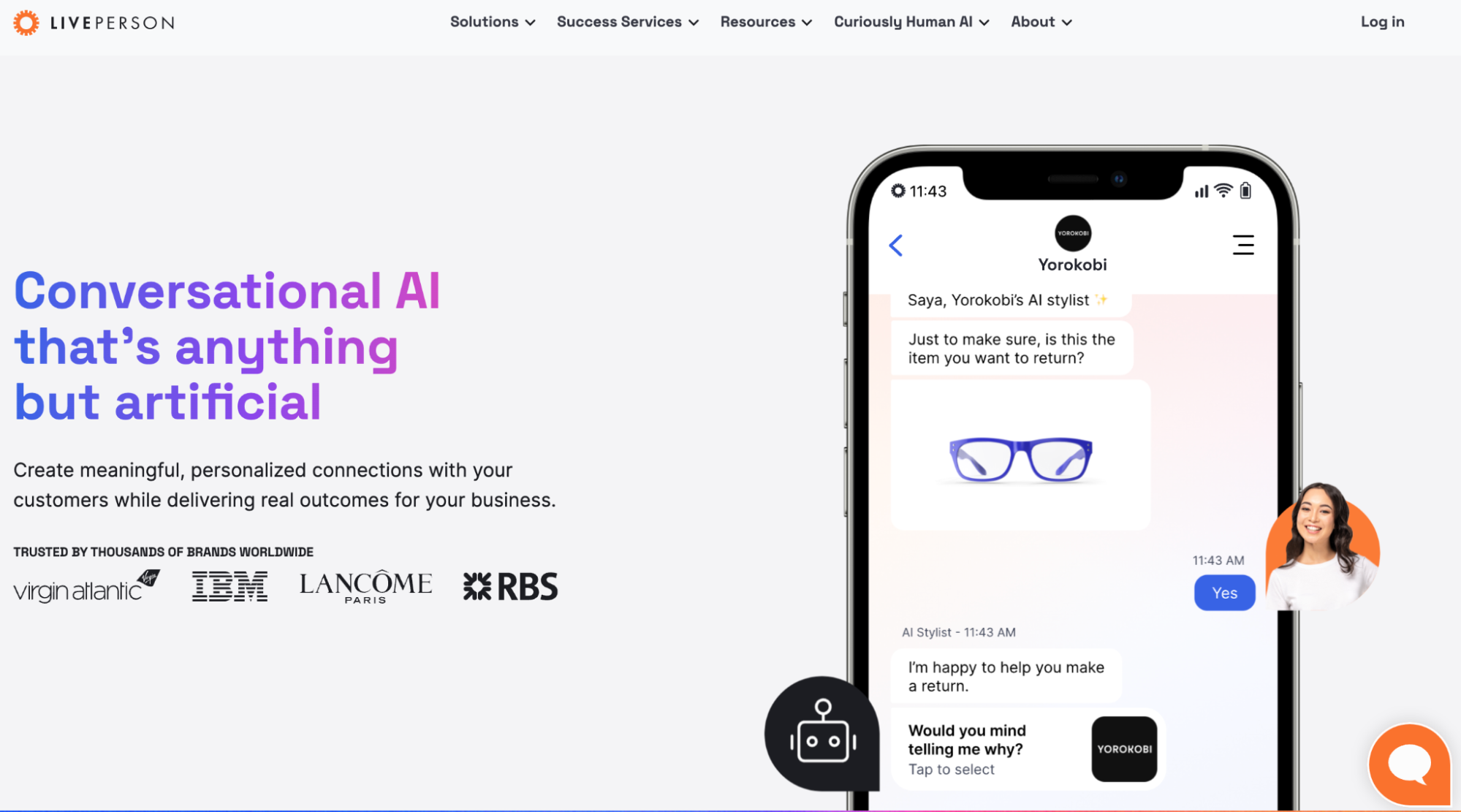 With LivePerson, you can create personalized customer interactions by understanding customer intent.
LivePerson lets you deploy a perfect balance of human and chatbots on any platform and unify customer care operations to save operational costs.
You can ask your customers the preferred channel of communication and communicate there to fasten the process. 
For example, instead of putting their call on hold while you speak to someone else, you can ask them if they'd prefer having a conversation via SMS and put LivePerson's chatbot to use.
Natural language understanding (NLU) intent models and automation helps you save time and track all essential metrics without the need of an expert.
Want a fully managed contact center as a service (CCaaS)? Gainshare by LivePerson will design, build, and run conversational commerce and care operations personalized for your brand.
It's a cost-effective and scalable solution that uses machine learning to learn and optimize over time and can be launched in a few weeks.
Pricing: You can request a demo, check the platform out via its 45-day free trial, and then contact the sales team for pricing.
#14. Netomi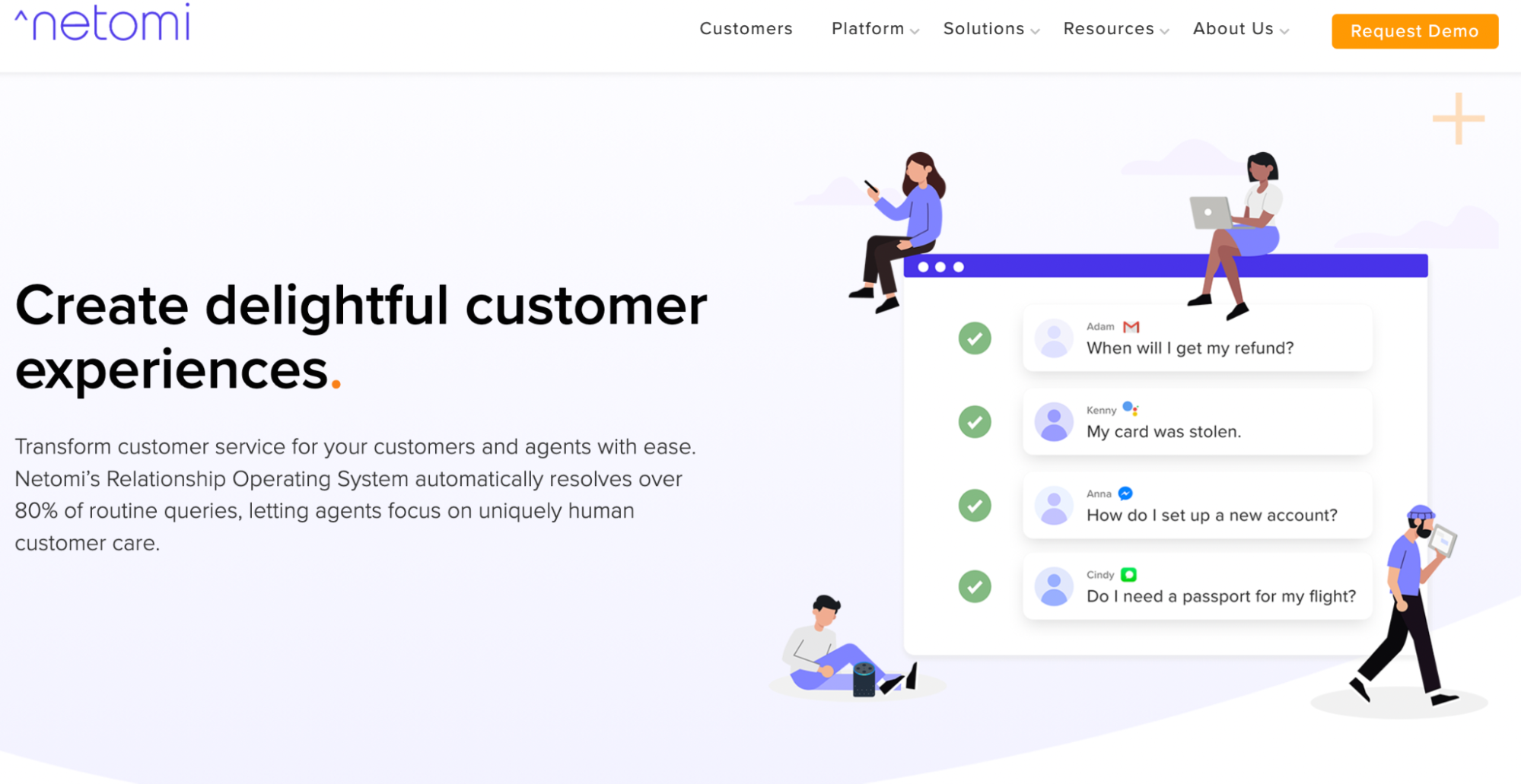 With Netomi, you can deploy a customer support chatbot across multiple channels and delight your customers with efficient, personalized, and convenient query resolution.
Don't keep your customers waiting when they approach your website for help; instead, integrate Netomi with Zendesk Chat, Salesforce Chat, and LivePerson and automate ticket resolution.
You can also connect Netomi's AI chatbot to a platform like Sprinklr to boost agent productivity and response time.
Netomi comes with an SMS chatbot that properly understands the customer's intent even if they use texting slang, short-form, or emojis.
What's more, Netomi also lets your customer resolve queries via voice-enabled customer service chatbots.
The customer service chatbot for voice works on Netomi's proprietary intent classification. 
No matter the accent, the AI understands what your customers say and gives them suggestions/options based on their problems.
Pricing: To know the pricing, you can contact their sales team.
#15. Tidio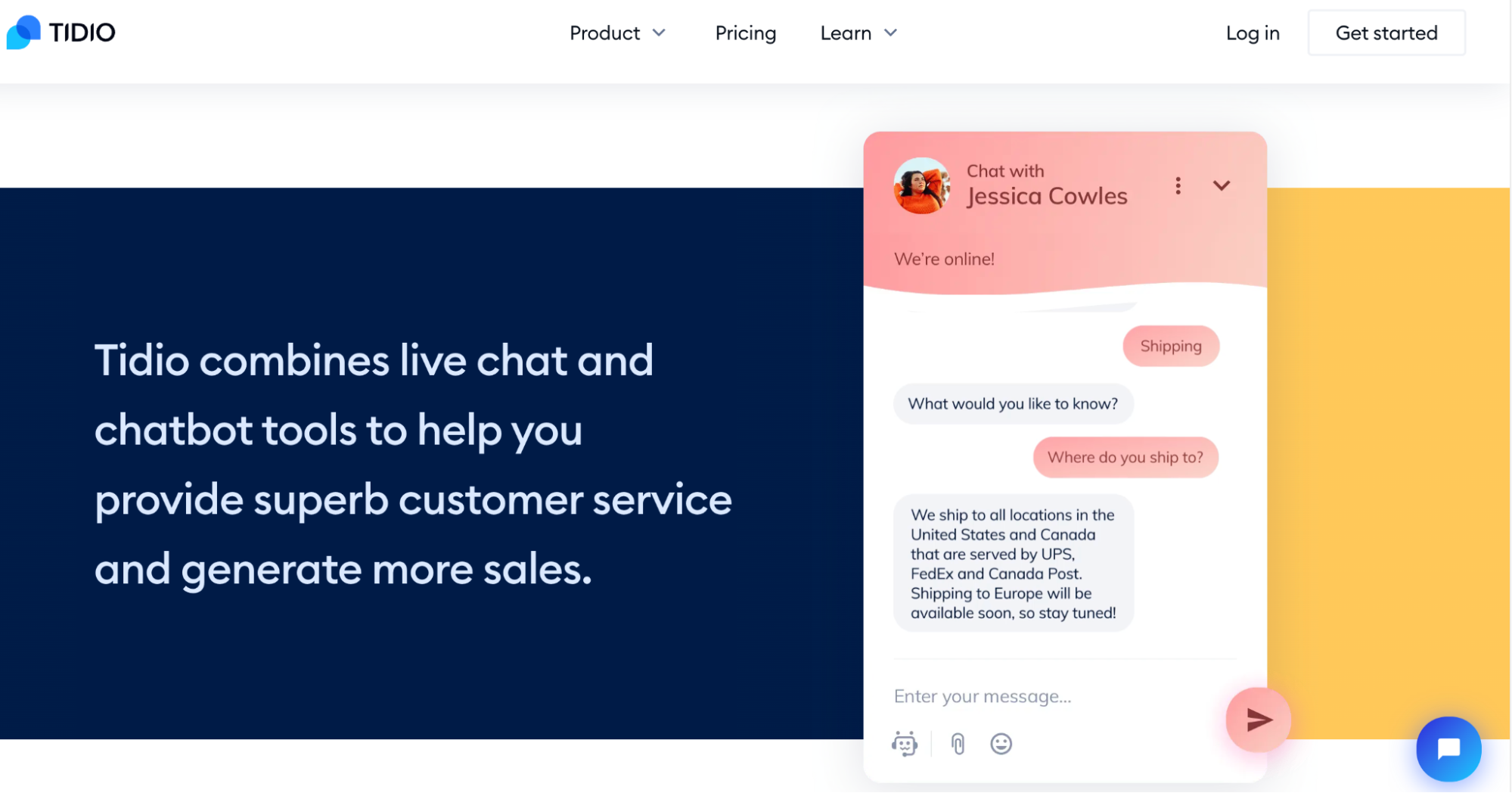 Tidio is a customer service chatbot builder that comes with 35+ pre-built chatbot templates.
With Tidio, you can send an automated reply to a customer who hasn't heard from an agent yet due to some reason. You can also send an automated reply when all your customer agents are busy and request customers to wait for a while.
Post query resolution, you can attach a quick survey to get insightful customer feedback.
If you own an ecommerce store, your most common customer query might be checking order status or tracking shipping status. 
Bring your chatbot in to resolve these common queries and let your customer agent focus on more productive queries.
Group your customers based on the question they ask and send them personalized solutions and tips to their potential problems.
Tidio offers an intuitive chatbot builder to create your customer service chatbot from scratch with no coding required. Just drag-and-drop elements to create a flow, and the bot's ready to deploy.
Pricing: You can start using Tidio for free, but you will need its premium plans when you scale your business. Tidio offers three paid plans:
Starter:

$39/mo

Team:

$79/mo

Scale:

$399/mo
Wrapping Up 
According to Chatbot Magazine, if you use chatbots the right way, you can save your customer service cost by 30%.
Customer service chatbots can't replace a live agent, that's true. But you can use them as a booster to help customer support agents out.
Using customer service chatbots and live agents in tandem will help you fasten up your customer service, put common query resolution on autopilot, and lower your investing into hiring multiple agents.
Still can't figure out which customer service chatbot is a perfect fit for your business? 
Book a demo to see Cohere Answers in action and we'll also send you a free automation report detailing the ways to unlock wins for your support team.
Making customers happy is hard. Let's make it easier.
See how Cohere can help your CX and sales teams engage with customers faster and more effectively.