Are you thinking of deploying a chatbot on your website or app? Want to know which chatbot solution might be the best fit for your enterprise?
In today's digital era, having a chatbot for your website or app is beyond critical. That's what your customers expect, actually. 67% of customers worldwide interacted at least once with a chatbot last year, after all, and that number is only going to increase.
In this article, we will explain what an enterprise chatbot is, the factors to look for when choosing one, and we'll show you 11 enterprise chatbot solutions for you to choose from.
So, let's begin.
What is an Enterprise Chatbot?
Enterprise chatbots help an enterprise cater to both its employees and customers by automating communication, answering queries, scheduling meetings, and much more. 
Chatbots are conversation interfaces built with the help of artificial intelligence and machine learning to satisfy business needs.
They can help your customers book a call or track their shipment and, at the same time, help your business teams schedule internal meetings.
Here are some other uses cases of enterprise chatbots:
Customer service automation

Sales and lead generation automation

Collect customer feedback automatically

Gamify CX via enterprise chatbots

Chatbots for internal communication
An enterprise chatbot like Cohere Answers (disclaimer - this is our tool) can help you automate repetitive tasks, give you actionable insights about your customers, and increase agent productivity 1.6x times.
When it comes to investing in an enterprise chatbot for your business, don't be in a hurry. Here are some factors that are good to have in an enterprise chatbot.
What to Look For In An Enterprise Chatbot Solution?
#1. Use of artificial intelligence
A chatbot can be rule-based or AI and ML-based. An enterprise can use both, but using an AI and ML-based chatbot is advantageous as it improves over time.
These types of chatbots help you get rid of answering repetitive tickets, collect essential customer data, and much more.
Rule-based chatbots work according to a decision tree built for every query asked by a customer. 
This might be problematic in scenarios where you don't have a decision tree for a question asked by a customer.
Also, rule-based chatbots don't use AI, which means the bot can't learn and therefore can't automate repetitive tasks.
#2. Tracking and analytics
Integrating conversational AI with behavioral analytics opens a whole new world of data that helps you know your customers inside out.
Choose an enterprise chatbot solution that lets you track and analyze consumer behavior at every step of a customer's journey. And the best way to analyze customer behavior is by tracking metrics like self-survey rate, query volume, most common query, etc.
An enterprise chatbot can help you do that.
#3. Pricing
Enterprise chatbot solutions pricing differs based on various factors, making a huge difference in billing.
Many solutions charge you per message; the problem with these types of chatbots is that your chatbot bills will be through the roof when you scale.
11 Best Enterprise Chatbot Solutions You Must Try
#1. Cohere Answers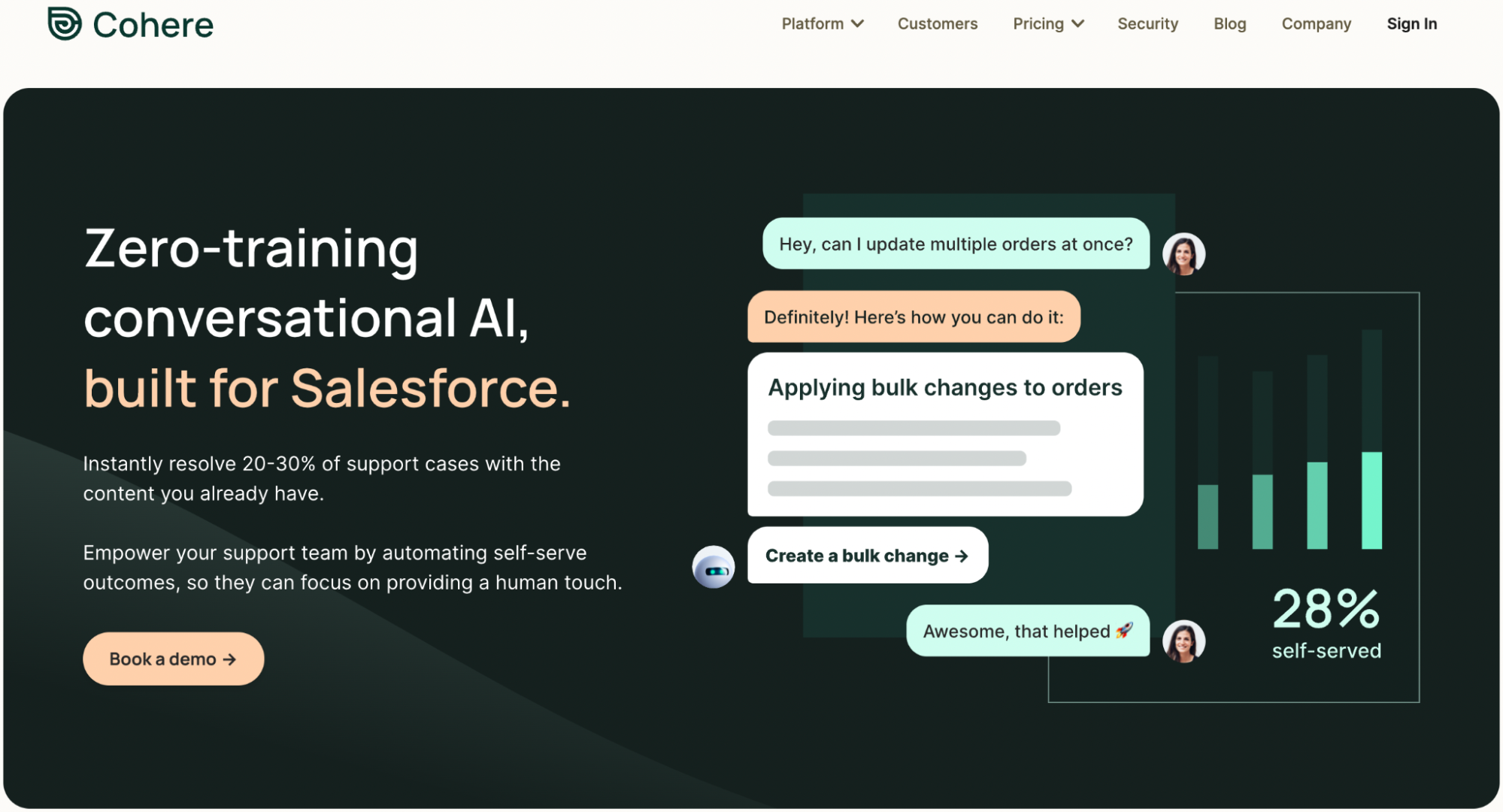 Cohere Answers is a conversational AI chatbot that you can deploy in hours, not days, and needs zero training.
There are many unique features that give Cohere Answers an edge over its competitors; here are some of them:
Repetitive Task Automation:

Automates repeat ticket answering and saves you time and manpower

Help Center Integration:

Link your help center page (or FAQ page) with the chatbot to answer all basic customer queries automatically

Self-Serve:

Our cutting edge intent-based AI helps Cohere Answers learn from your knowledge base and even point out suggestions to improve CX further

Efficiency:

Cohere uses transformer-based models that help it capture customer intent and not specific vocabulary (like keyword-based model), resulting in better answers that keep improving over time

Analytics and Reports:

Track and optimize important customer service metrics like top questions asked, self serve rate, or deep dive into customer behavior to find new opportunities to improve CX
Fact: Cohere Answers will help you increase self-serve tickets by 28% and reduce cost per interaction by 43%.
Pricing: Demo available on request, reach out to inquire about Enterprise (contact sales) plans.
Eager to launch a chatbot for your enterprise? Check out Answers, the #1 conversational AI chatbot.
#2. Flow XO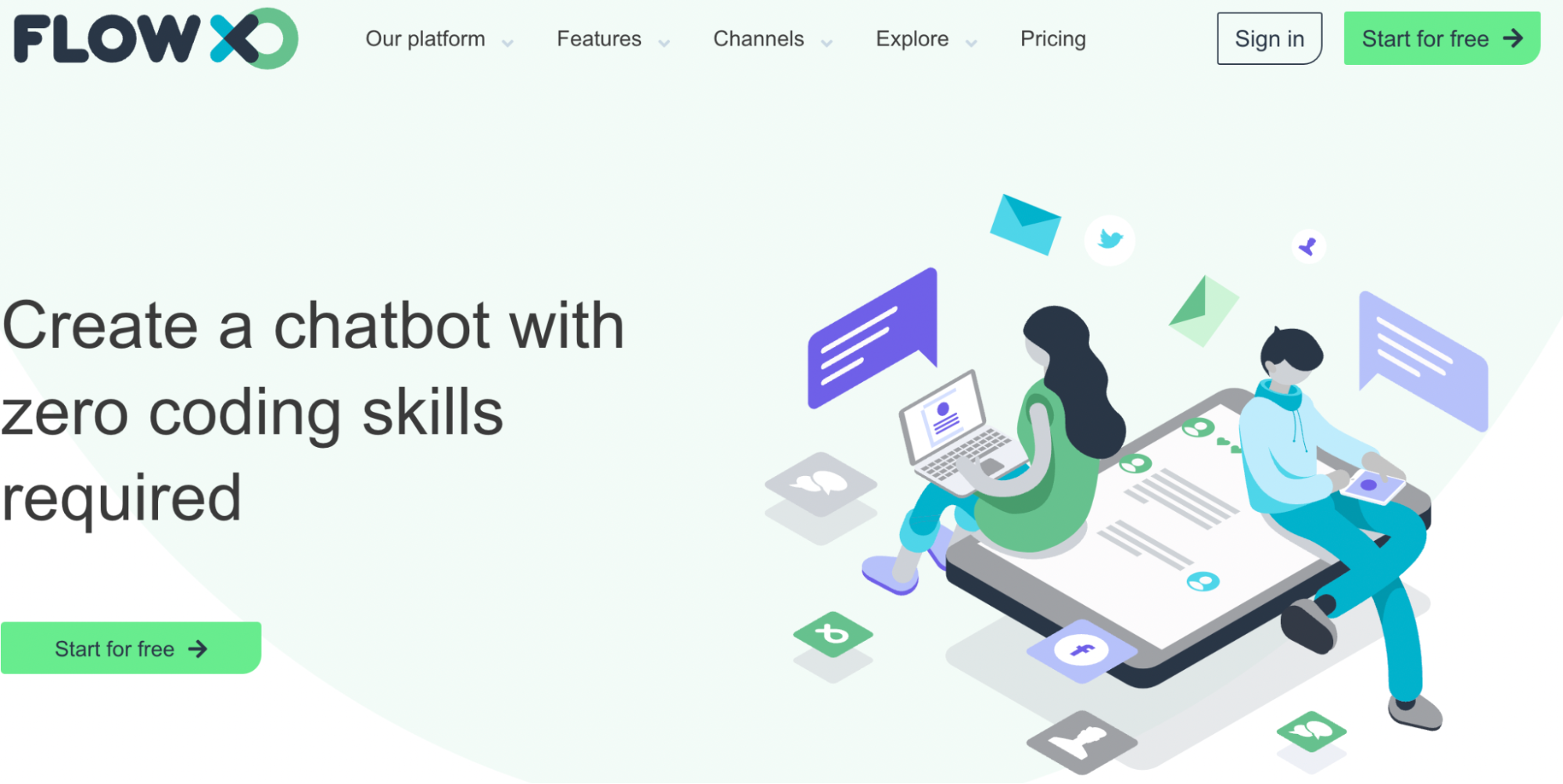 Flow XO lets you create an AI chatbot with zero coding skills appropriate for small and mid-sized businesses.
You can use Flow XO as a welcome mat by greeting and guiding visitors through the website. 
The bot can answer basic queries visitors ask and persuade them to fill out a lead form if they're interested in the product or service you offer.
Do you want your chatbot to be a little funny? With Flow XO, you can crack a joke or give your visitors funny yet educating tips on the latest trends in your niche.
A customer often has a question that a chatbot can't answer; what do you do then?
Instead of not answering the question, you can redirect the customer to talk to a live agent. Once everything's clear, the agent can then hand over the chat to Flow XO.
Pricing: You can start for free with Flow XO, but if you want premium features, you can pay for its Standard Plan ($19 per month) and opt in for add-ons if you want to. 
#3. Haptik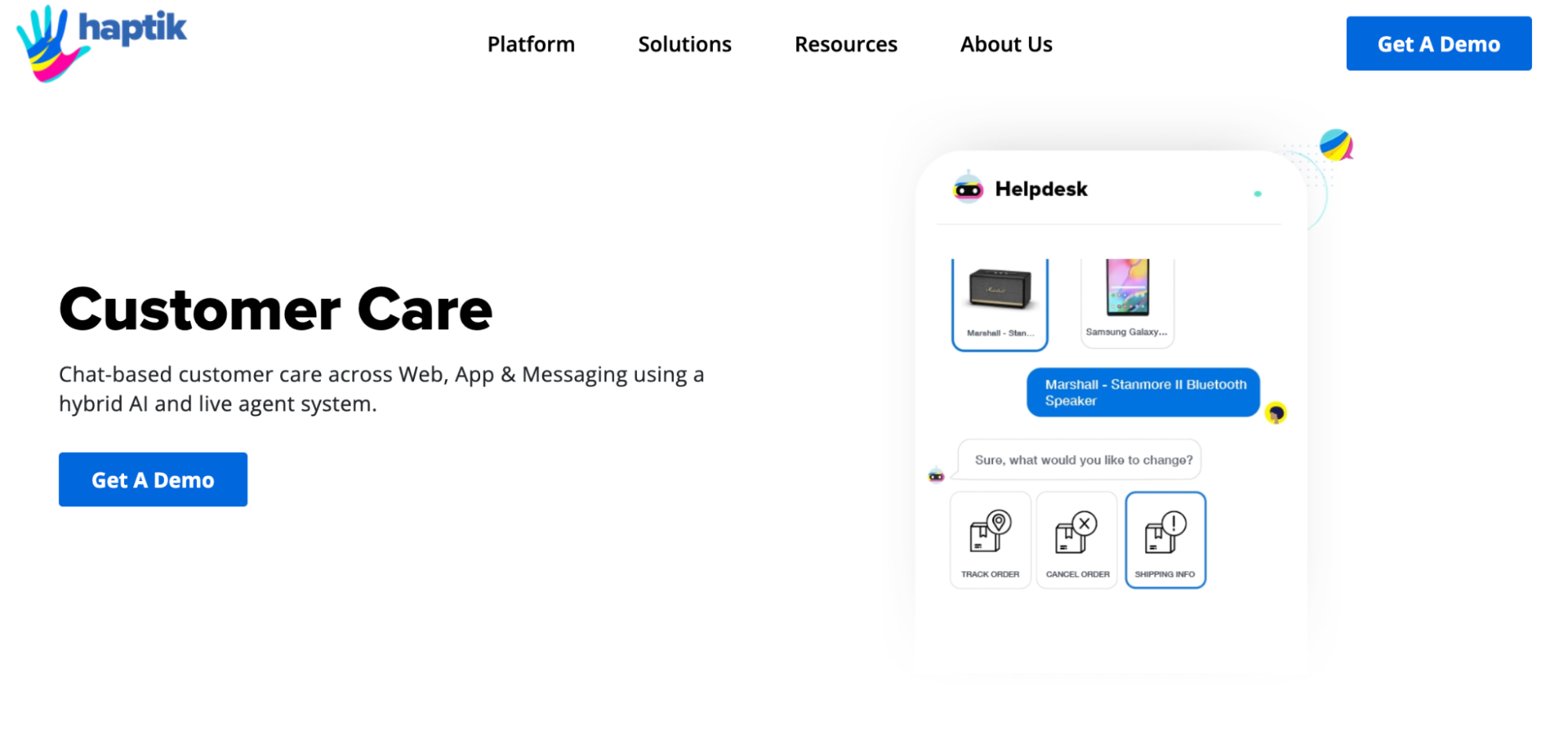 With Haptik, you can build AI-powered virtual assistants to improve CX across multiple channels.
You can use Haptik to build solutions for:
Conversational commerce

Lead generation

Customer care

Emailing

Conversational IVR
The solution lets you deploy chatbots across your website, app, WhatsApp, Instagram, and Facebook. It also lets you enable self-serve support and automate repetitive queries.
You can run targeted campaigns based on user behavior, page visits, and customer actions to generate leads.
If you own an ecommerce store, you can: 
Provide your visitors' buying guidance and personalized product recommendations

Upsell and cross-sell products

Automatically answer product queries 
Lastly, with Haptik, you can integrate chatbots on all your social pages, reply faster, promote your latest products, and run loyalty programs on social media.
Pricing: Haptik has three plans to choose from - Starter, Growth, and Advanced but you have to contact their sales team for pricing.
#4. Botsify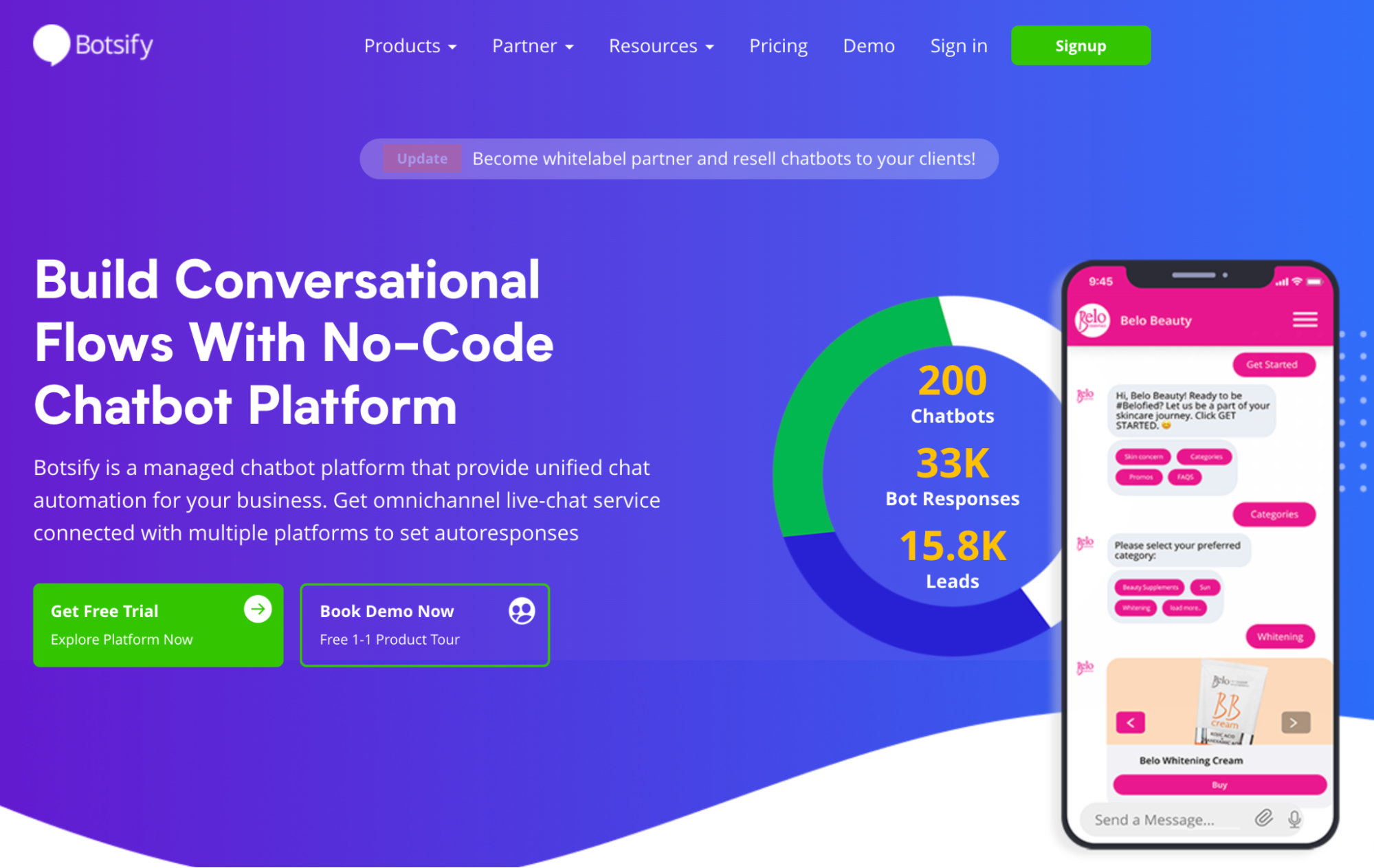 Botsify helps automate customer service across every possible channel you can think of. With Botsify's website chatbot, you can translate your native language into 190+ local languages.
The page messaging feature of Botsify helps you grab maximum visitors and convert them into customers by promoting a product that they find interesting. 
With the Facebook messenger bot, you can broadcast and schedule messages to save time.
What's more, Botsify lets you create an SMS chatbot in three simple steps that provide customer service to your customers 24/7.
Pricing: Botsify has four plans - Do it yourself ($49 per month), which is apt for startups, a Done for you plan ($149 per month) that's great for scalable businesses, a White-Label plan for agencies, and a custom plan for enterprises. No matter what plan you choose, you get a 14-days free trial (CC required).
#5. Aivo.co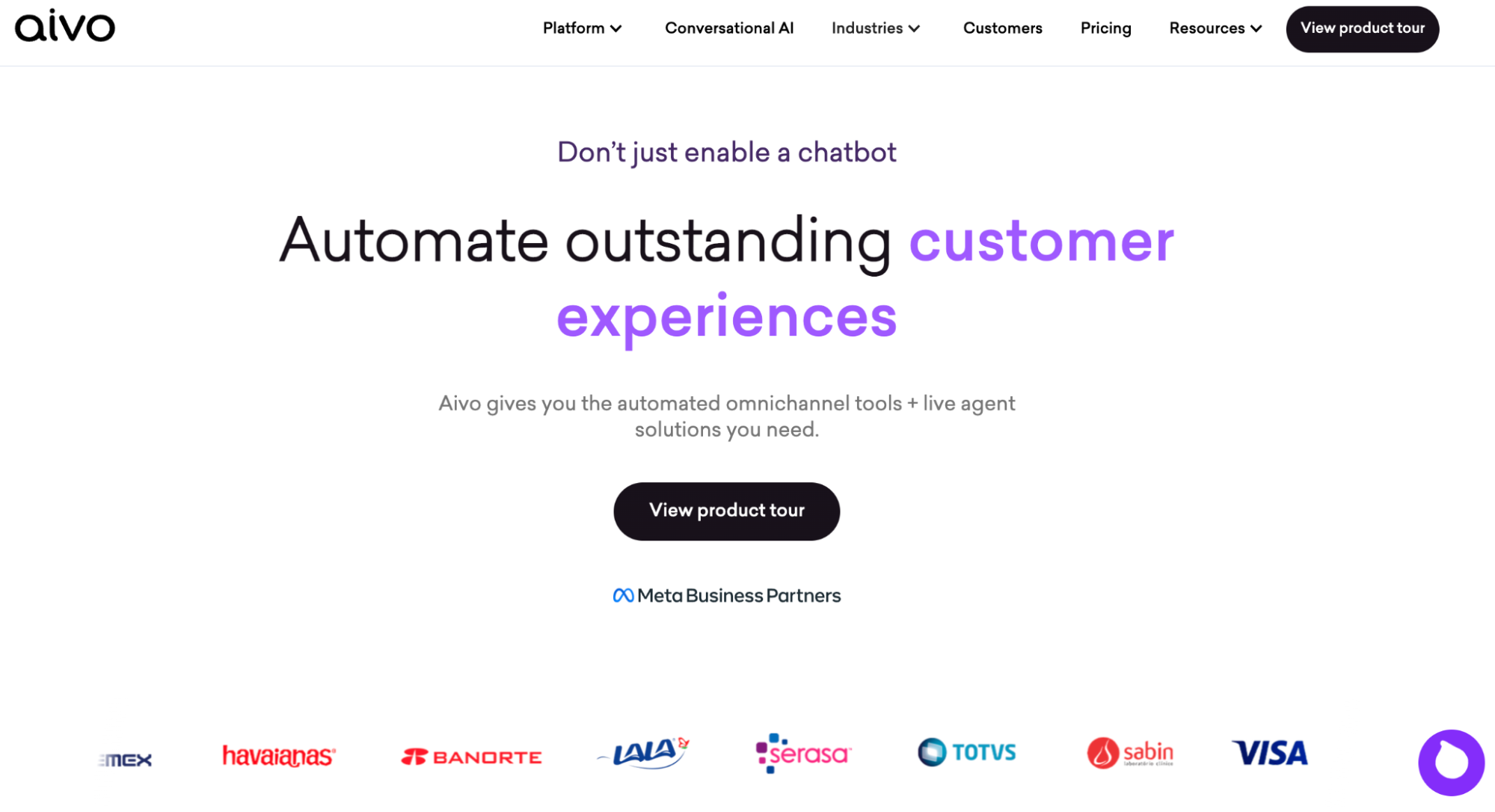 Aivo has two chatbot enterprise solutions that you can use to automate customer service - AgentBot and Live.
With Aivo chatbot (AgentBot), you can talk to customers like a person. The bot can detect informal language, spelling mistakes, emojis, and even voice messages.
When AgentBot transfers a customer to a live agent, the agent gets to look at the customer profile and chat history, which helps in personalization.
Live is a chatbot that you can deploy on multiple channels to segment your customer service, boost agents' productivity, and analyze customer data in-depth.
The conversational engine of Aivo provides customer service in multiple languages.
Pricing: Aivo has four plans - Starter ($75 per month), Advanced ($479 per month), Business, and Enterprise. Apart from fixed pricing, Aivo also charges an additional $ 0.18 and $ 0.15 per conversation. You can contact the sales team for Business and Enterprise plan pricing.
#6. Meya.ai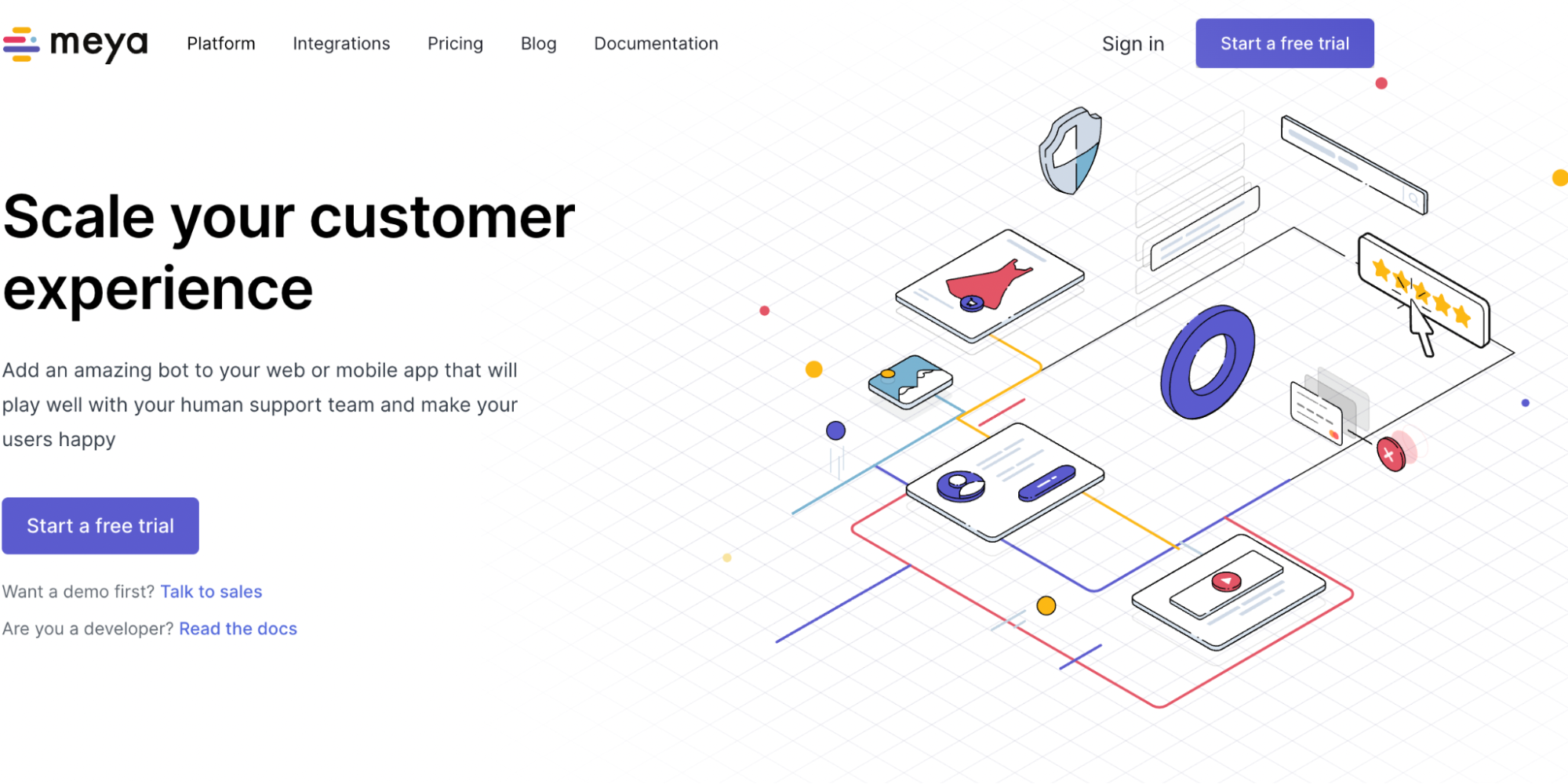 Meya.ai lets you build a chatbot from scratch. It's trusted by the likes of Google, ESPN, PlayStation, and several other well-known brands.
Orb is the official chatbot of Meya.ai that you can set up on your website or app. And Grid is Meya's super-powered backend your engineers can use to build an enterprise chatbot.
Here are some of its features you'd like to explore:
White-Labeled:

Has unlimited customization options to blend in with your website or app

Event-Based:

Only offer help or send a message when users want you to

Quick Designing:

Choose from dozens of UI elements and set your chatbot without any coding
Pricing: Meya is quite expensive, its Pro plan costs $799/month, and the Partner plan costs $2500/month. From the pricing, it's evident that the bot is not affordable, but if your business model relies a lot on CX, it might be worth it.
#7. Snatchbot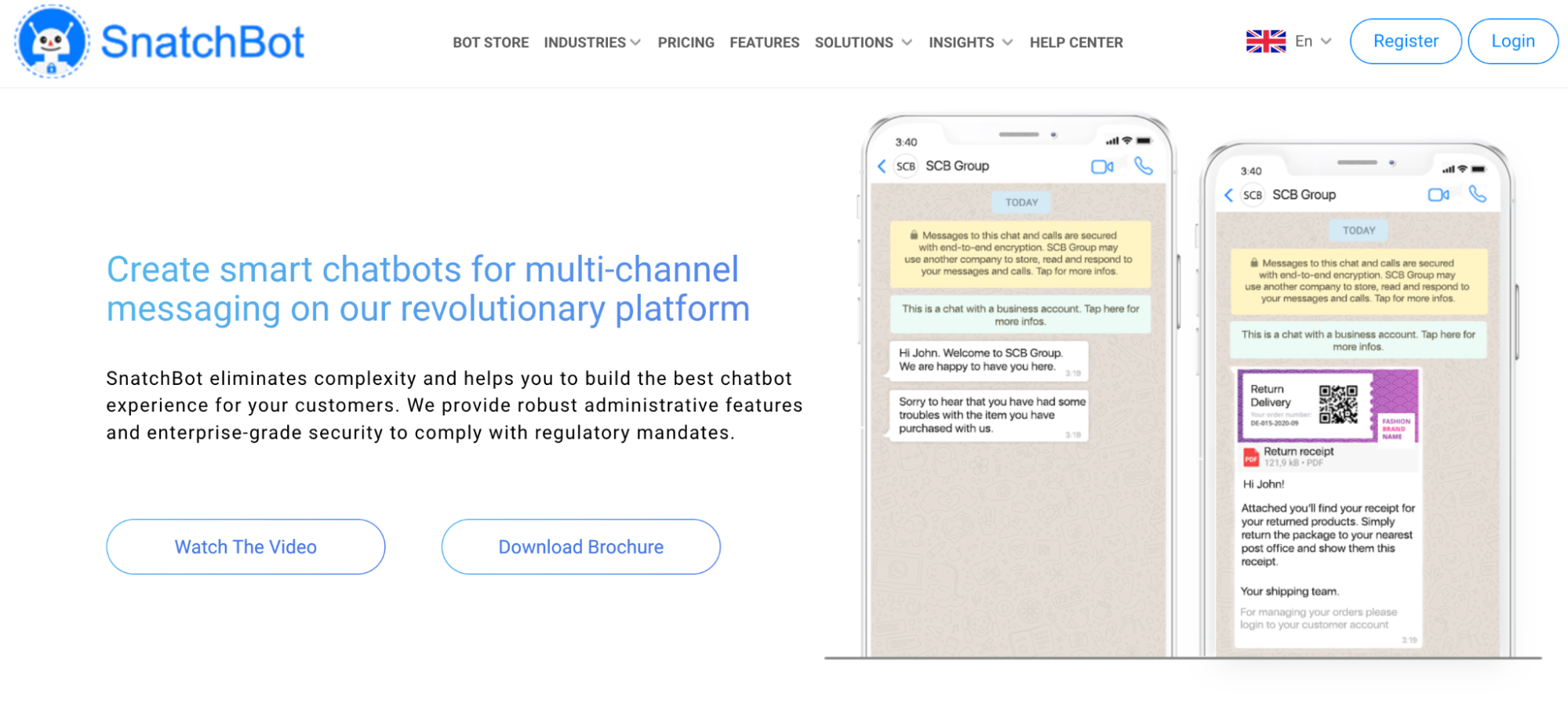 Snatchbot is a feature-rich enterprise chatbot solution with enterprise-grade security to comply with all regulatory mandates.
The platform lets you create an automatic or human hybrid chatbot without coding.
The search interaction feature lets users search for answers by searching results from Google or Bing within the chatbox.
If a customer asks to contact a live agent, you get an email notification, and the chat will halt until an operator is connected to the customer. 
Snatchbot comes with a natural language processing engine that gives your chatbot the AI-driven tools to understand the meaning of sentences.
Pricing: You can get started with Snatchbot for free. If you want premium features, you can choose a plan depending on your budget and requirements. The Pro plan starts at $30 per month and goes as high as $999 per month, depending on the set of features you want.
#8. Intercom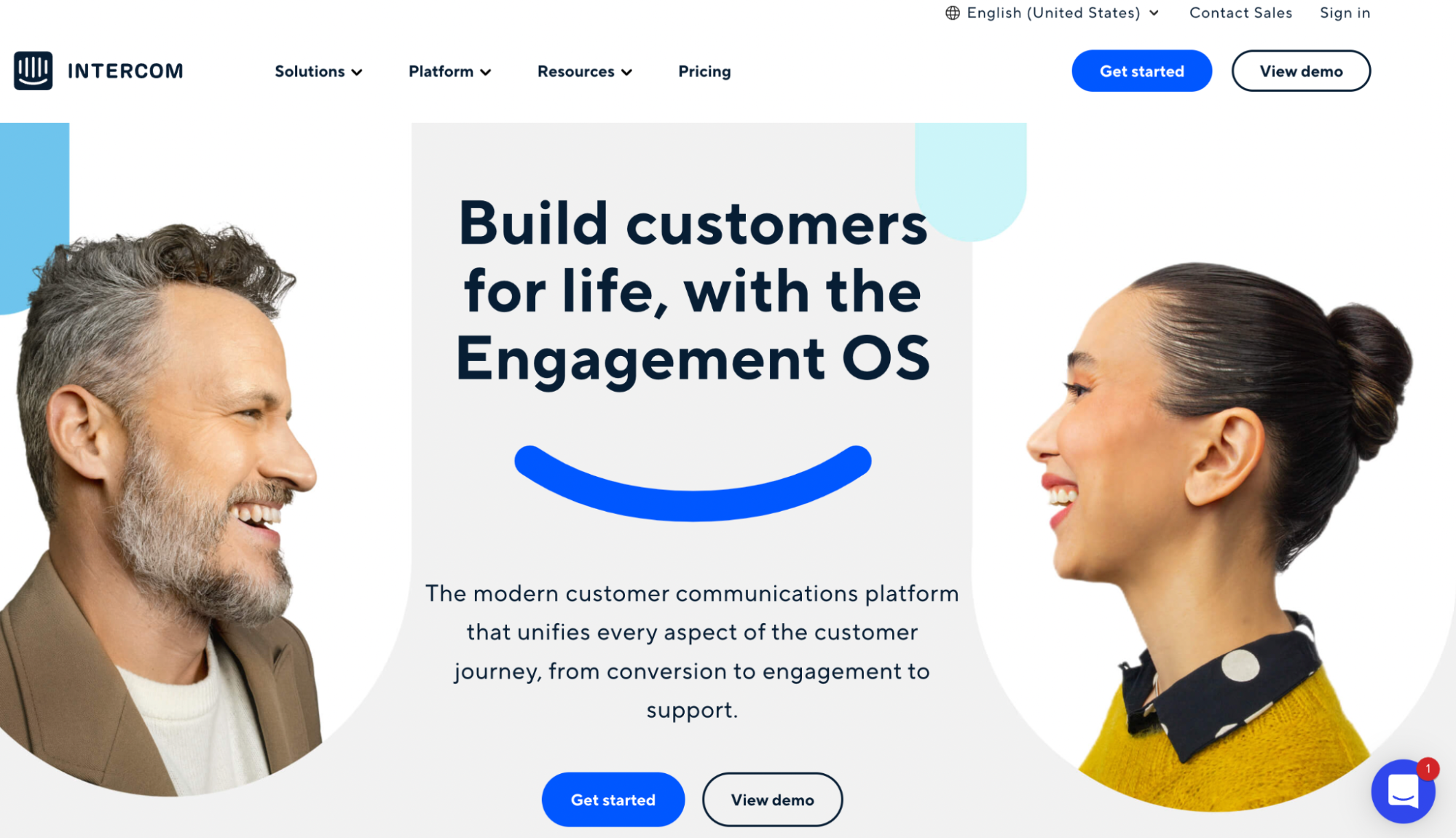 Intercom is a popular brand among enterprises and is trusted by 25k+ businesses including Amazon, Shopify, Facebook.
With this enterprise solution, you can trigger targeted messages if a customer is stuck or confused or use product tours to promote your product to new visitors.
Intercom collects custom behavioral and event data that lets the bot know every customer and personalize their chat accordingly.
You can use Intercom chatbots to resolve common queries or share helpful articles in the chatbot itself to clear a concept.
Intercom has a single dashboard to manage all conversations across multiple platforms, making it easy to use.
Pricing: Intercom doesn't reveal its pricing. You have to contact support for it. Although, if you're a very small business, they have a Started plan you can use that costs $74/month.
#9. Kustomer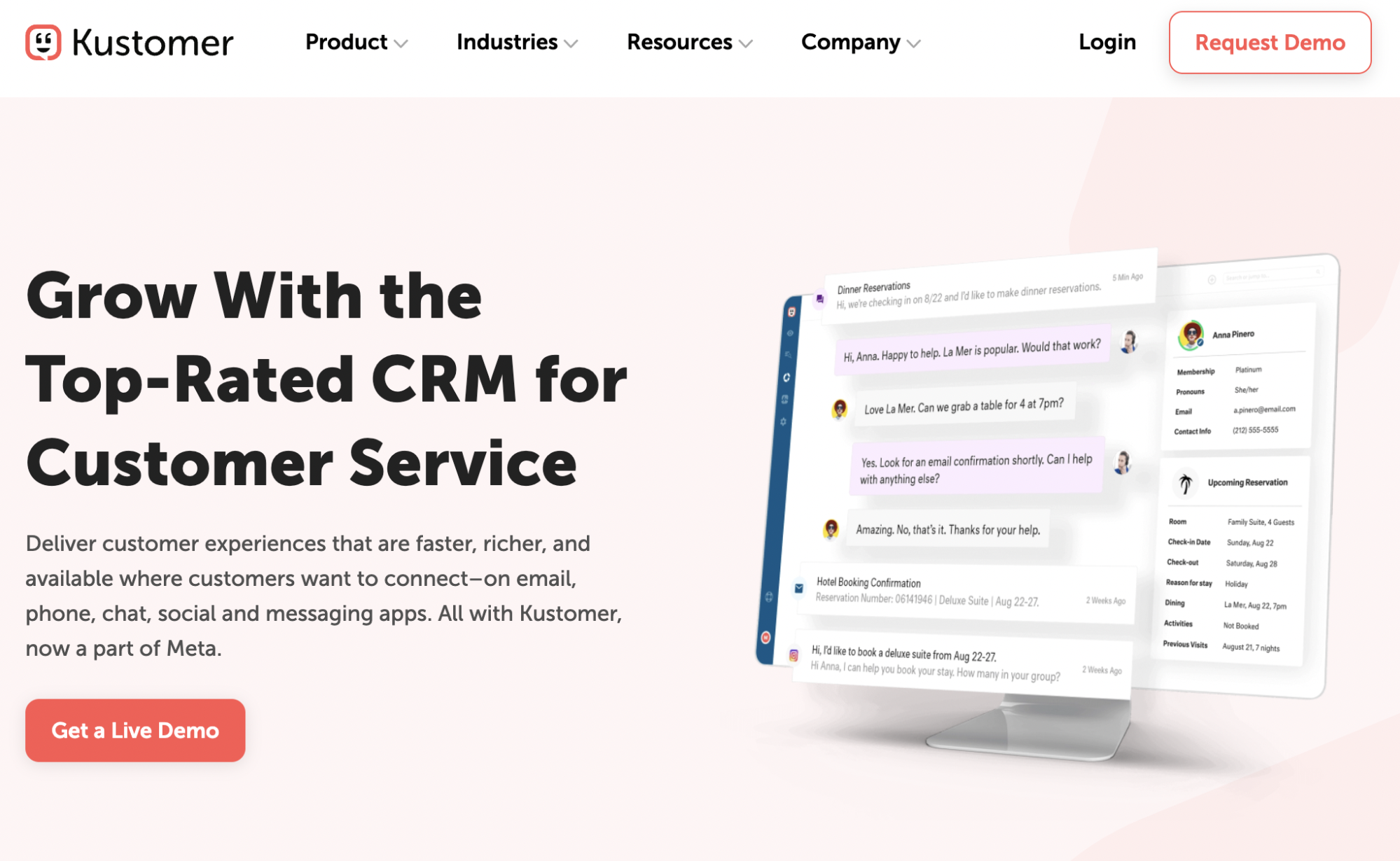 Kustomer is an omnichannel chatbot solution that leverages AI and historical data to personalize engagements.
It lets you answer customer queries quickly and gives your customer quick access to FAQs within the chatbox.
The Kustomer dashboard lets you view customer interaction in a chronological view to figure out the bottlenecks of a customer journey.
The platform has a vast apps ecosystem and open API that enables you to integrate it with multiple apps that display billing information, enable order tracking, and much more, all inside the chatbot.
Pricing: Kustomer has two plans to choose from - Enterprise ($89 per user per month) and Ultimate ($139 per user per month). By paying an extra $20 per user per month, you can enable AI for your chatbots with Kustomer IQ.
#10. Ada.cx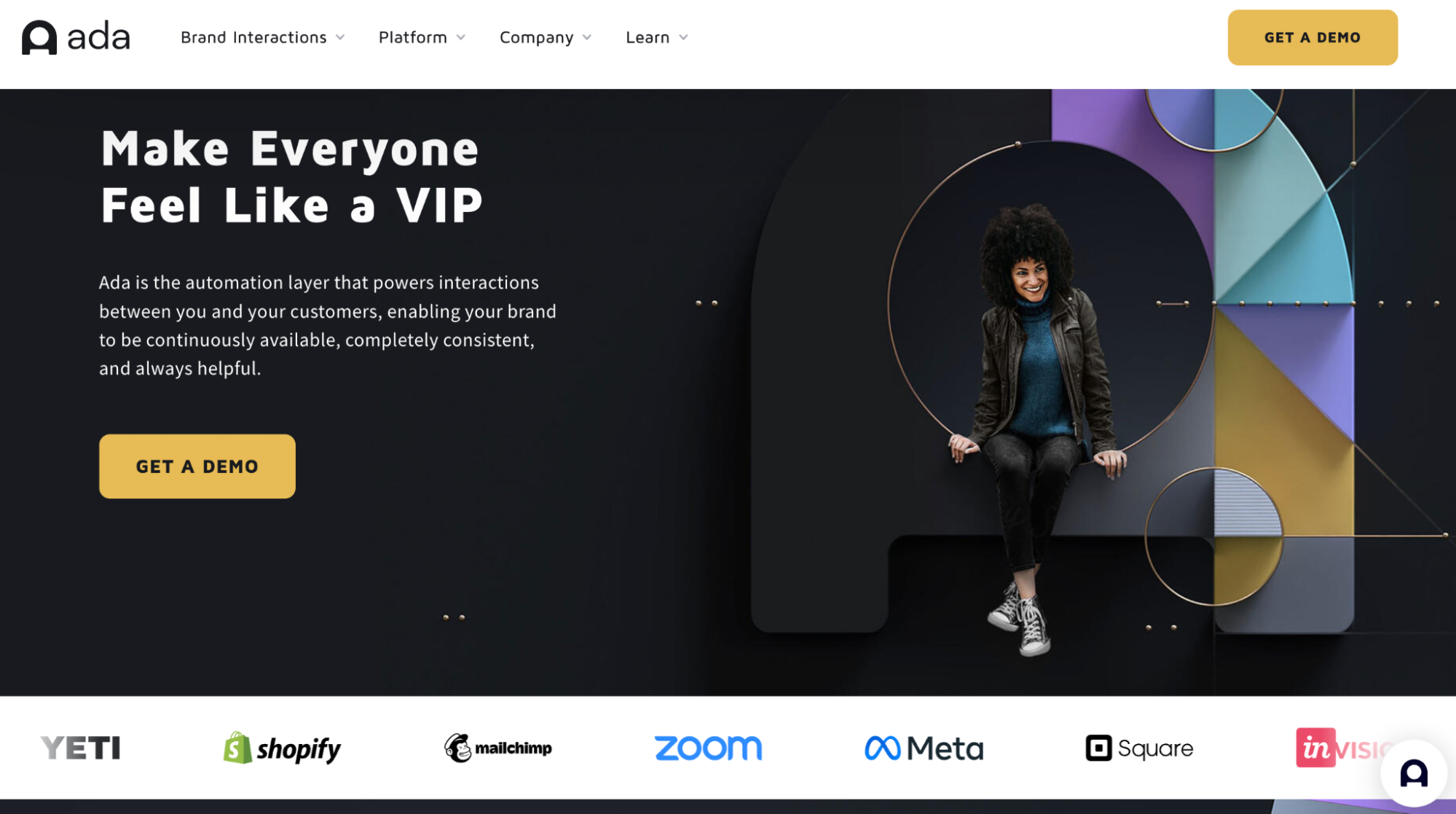 Ada uses advanced interaction AI to know what exactly customers want and can integrate to multiple digital channels delivering CX that customers ask for.
Here are some of the features you get with Ada:
Run personalized campaigns for both new and existing customers to accelerate onboarding, increase in-product adoption, and reduce churn significantly

Identifies customer intent through natural language processing and then directs customers to the right team at the right time

Segment customers based on their needs and interests and send them personalized messages

Replace static forms with Ada's dynamic conversational experience to boost lead captures and conversions
Pricing: Ada doesn't reveal its pricing; you can request a demo or contact their sales team for exact pricing, depending on your enterprise requirements.
#11. Boost.ai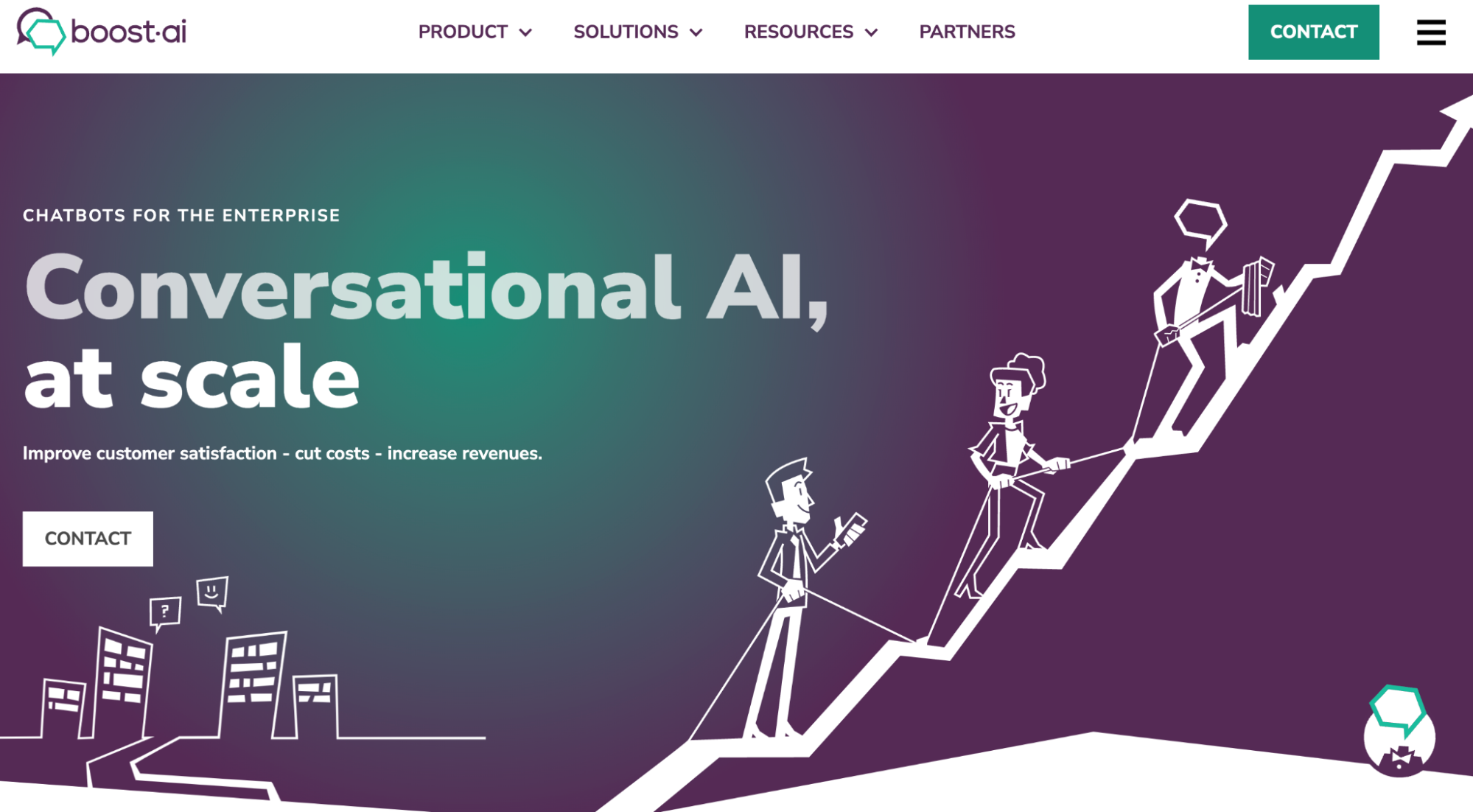 With Boost.ai, you can build a self-learning AI chatbot in a few days, test it out, and decide upon your next steps.
You can build an end-to-end conversational AI without a single line of code and create advanced conversation flows in minutes.
Natural language understanding (NLU) and natural language processing (NLP) help your chatbot understand and answer thousands of customer queries quickly and accurately.
Boost.ai comes with a multi-purpose dashboard that tracks conversation quality, feedback ratings, and other metrics needed to improve CX.
Pricing: Boost.ai gives you three subscription offers: Trial, Standard, and Enterprise. You can request a free 10-day trial (the trial plan). For the other two plans, contact sales to get a quote.
Wrapping Up
To improve CX and understand customer intent, getting an enterprise chatbot solution for any company is a must.
When investing in an enterprise chatbot, don't just pick the one that the majority is picking. 
Understand your business needs; more importantly, understand your customer needs, and see which chatbot might be the best fit for your enterprise.
Want to know how a conversational AI chatbot could help your enterprise?

Book a demo

to see Cohere Answers in action and we'll also send you a free automation report detailing the ways to unlock wins for your support team.
Making customers happy is hard. Let's make it easier.
See how Cohere can help your CX and sales teams engage with customers faster and more effectively.